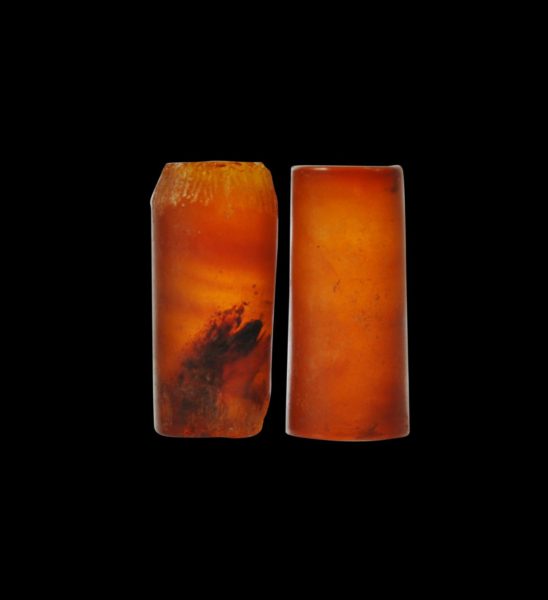 5286
Enquiry about object: 5286
Two Burmese Amber Cylinder Ear Plugs
Kachin People, Burma 19th-early 20th century
approx. lengths: 4.4cm, diameter: 1.6cm, combined weight: 27.05g
Provenance
private collection, London.
Cylindrical ear plugs such as these were worn in the ear lobes through large holes mostly by Kachin women in Western Burma, but also by Mizo women in Eastern India.
They are made of solid Burmese amber or burmite. They are thick but not heavy on account of being made of amber and so were more easily kept in place in the lobe.
Similar examples are illustrated in Hoek et al (2004, p. 166) and Richter (2000, p. 78).
The amber, known as burmite, is a type of fossilised amber that originates in Burma's Kachin State, and which was known to the Chinese as early as the Han period (206 BC-220 AD).
The two here have plenty of wear. They are not identical but are associated and most probably were worn as a pair. One has sheer ends, the other's ends have been scraped around the edge to give both ends more of a point. They have minor abrasions, inclusions and so on associated with age and use.