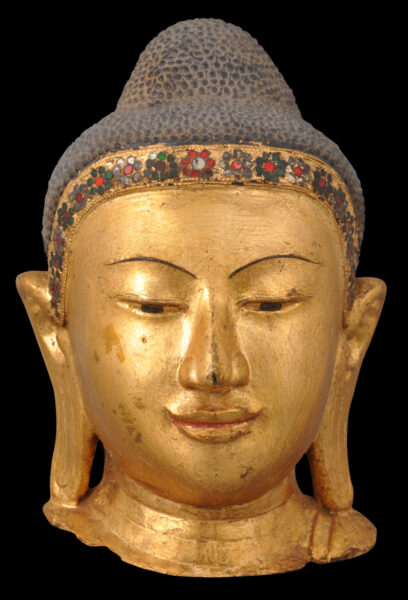 7031
Enquiry about object: 7031
Burmese Gilded Lacquer Buddha Head
Burma 19th-20th century
height: 29.7cm, width: 20cm, depth: 16cm
Provenance
J. & B. Harding, London, UK.
– scroll down to see further images –
This fine, elegant Buddha head is hollow and made almost entirely from dry lacquer that has been decorated in gold leaf. As such it has little weight for its size but is still strong and robust.
The Buddha has a serene expression with downcast, contemplative eyes and a slight smile. The ears are elongated and reach the shoulders – these are the elongated lobes of a prince – the Buddha was from a royal family.
The hair is in the 'peppercorn' style and cranial protuberance or usnisha is high and rounded.
The head band is of thayo work – a process whereby thin, rolled strands of lacquer and ash putty are applied in patterns. This work has then been gilded along with the rest of the image. It has then been inlaid with small roundels of glass backed with red and green foil in flower motifs.
According to Isaacs & Blurton (2000), the dry lacquer technique of sculpture production appears to have originated in China. It is not clear when the technique first started to be used in Burma, but by the eighteenth century the technique was well established. It had largely been lost by the mid-twentieth century. The method involves a core image being modelled in clay. This is then covered by a wash of fine ash and water on top of which is applied a putty of lacquer sap and teak sawdust. This is further moulded and shaped, thus providing what will become the completed image. Once the outer mould is dry, the inner clay core is removed and the outer image can be sealed, coated with a refined lacquer mixture, polished and gilded. The end result is a fine but very light sculpture. [The British Museum has a Buddha of gilded dry lacquer which it ascribes to the 18th or 19th century and which entered the museum's collection in 1919.  (See Isaacs & Blurton, 2000, p. 75).]
The example here is in fine condition. It was made as a head only (it has not come from a larger statue.) It is highly decorative.
An elegant black metal stand is included.
References
Fraser-Lu, S., Burmese Lacquerware, White Orchid Books, 2000.
Isaacs, R., & T.R. Blurton, Burma and the Art of Lacquer, River Books, 2000.