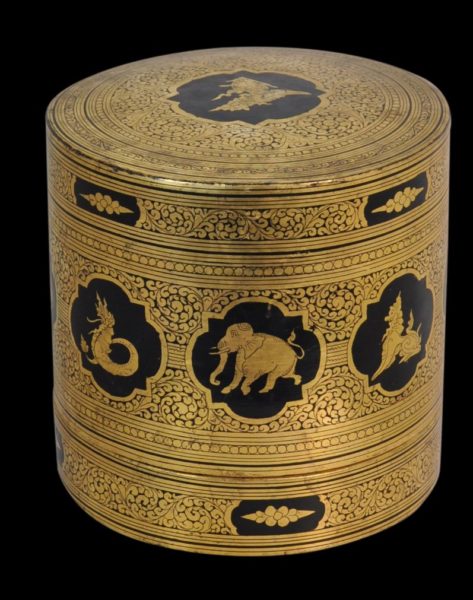 2699
Enquiry about object: 2699
Burmese Gilded Shwezawa-work Lacquered Betel Box (Kun-it)
Burma (Myanmar), probably Pagan (Bagan) circa 1960s
height: 22.4cm, diameter: 23cm
Provenance
private collection, UK
– scroll down to see further images –
This well-proportioned cylindrical box is decorated in gold leaf and black lacquer, a technique known as shwezawa work. It is based on a betel box, and might have been intended as one, although it does not have the internal trays that most traditional lacquered betel boxes had.
It is decorated with a ground of coils of chu-pan foliage. (Lacquered items with similar gilded designs are illustrated in Green, 2008, p. 171-72).
The side is decorated with eight cartouches, one for each of the eight Burmese animal motifs of the week (gyo-hsit-lon).
The top of the lid is decorated with a central figure of a Burmese lion motif (chinthe).
The interior is of plain, black lacquer, as is the underside of the base.
The box is in excellent condition with only minor rubbing to the gold leaf.
References
Fraser-Lu, S., Burmese Lacquerware, White Orchid Books, 2000.
Green, A., (ed.), Eclectic Collecting: Art from Burma in the Denison Museum, NUS Press, 2008.
Isaacs, R., & T.R. Blurton, Burma and the Art of Lacquer, River Books, 2000.
Than Htun (Dedaye), Lacquerware Journeys: The Untold Story of Burmese Lacquer, River Books, 2013.