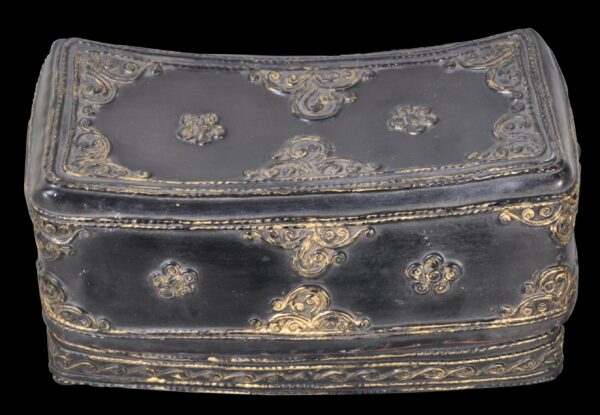 9171
Enquiry about object: 9171
Burmese Lacquered Box
Rakhine (Arakan) State, Western Burma or Shan States, Eastern Burma mid-19th century
height: 11.1cm, width: 13.5cm, depth: approximately 14cm, weight: 524g
This charming black lacquered box with gilt highlights comprises a lid and a base, with the two fitting snugly together. The interiors of both are decorated with red lacquer.
The form and dimensions are not unlike that of a traditional Chinese ceramic pillow and most probably are inspired by such a pillow.
All sides have been decorated with with molded relief work, a technique known as thayo, whereby lacquer is molded and extruded into designs over the surface. These have then been lacquered and finished with gold highlights.
The box most probably has a substrate of woven bamboo, and the lacquer has been applied over this.
The manner of decoration is seen in lacquer-work from both the Rakhine (Arakan) state in Burma's far west, and the Shan states in the east, and could be from either.
Possibly, the box was intended to serve as a pyi-daung or a box for storing dried tea leaves.
Locally-grown tea is a ubiquitous beverage in Burma. Traditionally, it is offered in restaurants and roadside stalls free of charge as a refreshment to all-comers and passers-by to the extent that it was not even necessary to actually buy anything to be permitted to consume the tea on the premises without charge. Burmese, particularly from rural areas, are still surprised today when they travel outside Burma to discover that they are actually required to pay for tea if they visit a teashop or cafe. The vast quantities of tea consumed and the fact that the dried leaves are not finely milled and so quite bulky en masse required quite large tea leaf storage containers.
The example here is in excellent condition. It is a fine piece of unusual form with a sculptural presence and a lovely patina.
References
Isaacs, R., & T.R. Blurton, Burma and the Art of Lacquer, River Books, 2000.
Than Htun (Dedaye), Lacquerware Journeys: The Untold Story of Burmese Lacquer, River Books, 2013.