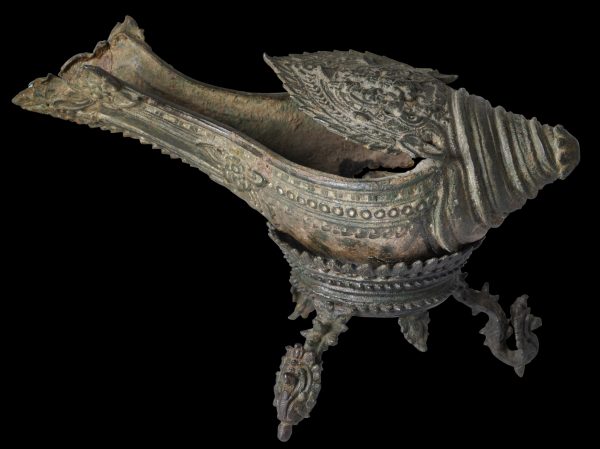 3704
Enquiry about object: 3704
Cambodian Bayon-Style, Ritual Bronze Conch Shell & Stand
Cambodia Angkor Period, 12th-13th century, & possibly later stand
length of conch: 27cm, height of stand: 8cm, diameter of stand: 14cm
Provenance
from a private collection, Hereford, England. Acquired by the previous owner from a private collection, Gloucestershire, England.
Conch shells, either real ones from the sea or cast in bronze using the lost wax process or made of ceramics, were used in religious ceremonies during the Angkor period. Conchs have long been associated with both Buddhist and Hindu rituals in many parts of Asia, but the use of bronze conchs is unique to Cambodia. They were used either for holding and pouring lustral water, or as a sacred musical instrument. The example here appears to fall into the latter, rarer category in that the spiral end of the 'shell' has an opening to permit blowing, which allowed the primordial Om sound to be produced during rituals. When in use, it is likely that the shells were placed horizontally on a stand, and when not in use, they were placed vertically (Bunker & Latchford, 2004, p. 426).
The example here is decorated on the pierced, fan-shaped flap over the main aperture with a central figure of what is probably the multi-headed deity Hevajra surrounded by eight dancing asparas.
It is still the case that in Cambodia, conch shells are used in wedding ceremonies to pour fragrant water over the newly married couple. Conch shells symbolise happiness and the water emitted from them is deemed to be ritually purifying.
The elaborate tripod stand with its three stylised lion feet might not have been originally conceived as part of the conch. It might be later and it might have been intended to hold a coconut during a Hindu ritual. The same can be said for a fine conch and tripod stand combination in the National Museum of Cambodia which illustrated in many books including Brand & Phoeurn (1992, p. 104), although quite a few conchs and stands have now been found and illustrated. Two more examples are to be seen in Bunker & Latchford (2004, p. 426).
The shell has several breaks which have been re-glued. This is consistent with the item being archaeological and having been in the soil for hundreds of years. It has a mottled silvery-green patina all over with brown coppery undertones. That the green and brown copper hues should be so apparent in images from this period is not surprising. Energy-dispersive x-ray fluorescence analysis on a series of sculptures contemporary with the example here has shown that the copper proportion for the tested group ranged from 77% to 85%. The tin content ranged from 2% to 15%, the lead content 3% to 13% and one image with a low tin result showed a presence of zinc at 9% (Cort & Jett, 2010, p. 83.)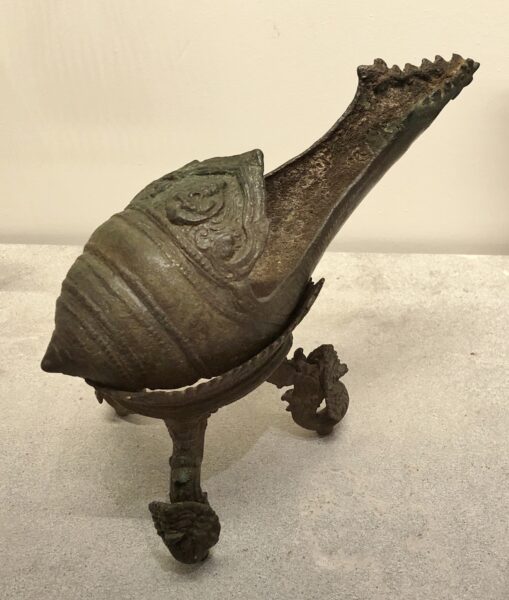 An example displayed in the Musée National des Arts Asiatiques-Guimet (Guimet National Museum of Asian Arts.) in Paris.
References
Albanese, M., Angkor: Splendors of the Khmer Civilisation, White Star, 2006.
Brand, M., & C. Phoeurn, The Age of Angkor: Treasures from the National Museum of Cambodia, Australian National Gallery,1992.
Bunker E.C. & D. Latchford, Adoration and Glory: The Golden Age of Khmer Art, Art Media Resources, 2004.
Coe, M., Angkor and the Khmer Civilization, Thames & Hudson, 2004.
Cort, L.A. & P. Jett, Gods of Angkor, Bronzes from the National Museum of Cambodia, Smithsonian Institution, 2010.
Ibbitson Jessup, H., Masterpieces of the National Museum of Cambodia, Friends of Khmer Culture, 2006.
Rooney, D., Angkor: Cambodia's Wondrous Khmer Temples, Odyssey, 2011.
Roveda, V.,Sacred Angkor: The Carved Reliefs of Angkor Wat, River Books, 2003.
Zefferys, M.L., N.S. Zefferys & J. Stone,Heaven and Empire: Khmer Bronzes from the 9th to the 15th Centuries, White Lotus, 2001.