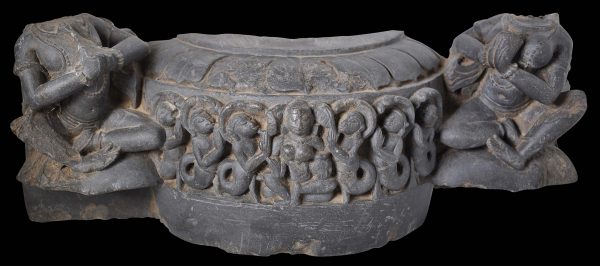 3042
Enquiry about object: 3042
Carved Indian Black Stone Vaishnavite Pediment
Rajasthan or Madhya Pradesh, India 10th-11th century
width: 38cm, height: 14.5cm
This finely carved pediment would have supported an image of Vishnu or an avatar of Vishnu. It comprises a circular lotus base with two attendants or possibly donor figures, one male and one female, on either side with their hands clasped in devotion. Between them, there is A frieze with the central figure of Lakshmi (Vishnu's consort) holding a vase is between them. Lakshmi is flanked by six cobra-headed nagas or snake deities.
The presence of the nagas or aquatic serpents might suggest that the pediment might have supported an image of the avatar Varaha. Vishnu's transformation into Varaha, an enormous boar, became necessary when the earth became completely submerged by the ocean necessitating Vishnu as Varaha to dive into the ocean to retrieve the earth.
See Dye (2001, p. 148-149) for a sandstone image, in the Virginia Museum of Fine Arts, of Brahma, Vishnu and Shiva which incorporates a frieze with a very similar depiction of Lakshmi with almost identically composed attendant naga deities. The sculpture is attributed to late 9th to early 10th century Rajasthan.
The pediment is in a stable state and can stand upright unaided. Its significant age is obvious from the wear and softened contours of the piece.
References
Alam, M.S., et al, Chefs-d'Oeuvre du Delta gu Gange: Collections des Musees du Bangladesh, Musee Guimet, 2007.
Dye, J.M., The Arts of India: Virginia Museum of Fine Arts, Philip Wilson Publishers, 2001.
Guy, J., Indian Temple Sculpture, V&A Publications, 2007.
Michell, G., et al, In the Image of Man: The Indian Perception of the Universe through 20000 Years of Painting and Sculpture, Arts Council of Great Britain, 1982.
Stadtner, D., pers. comm., March 2015.