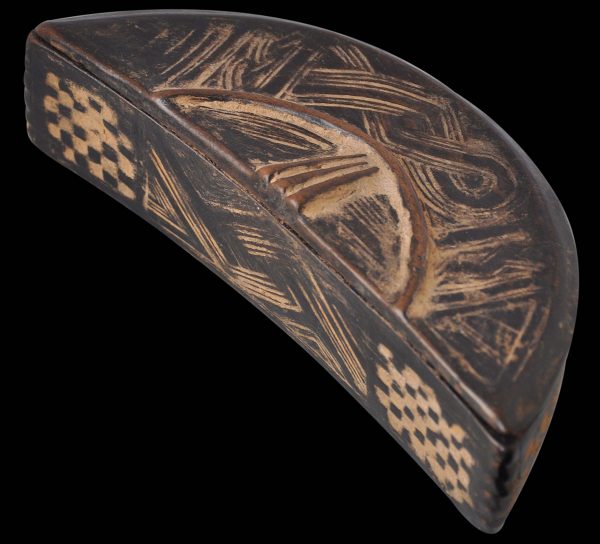 1898
Enquiry about object: 1898
Carved Wooden Camwood Powder Box
Kuba People, Congo 19th century
length: 23.8cm, height: 6.6cm, width: 9.4cm
Provenance
Obtained by the previous owner at Sotheby's London, 'Tribal Art', December 3, 1984.
According to Binkley & Darish (2009, p. 27), 'the Kuba were exceptional in the creation of an array of decorated boxes for storing personal possessions.'
The Kuba people of the Congo traditionally decorated everyday objects with intricate geometric patterns. This lidded, wooden box, of crescent or half moon form, has an exceptional patina. The overall patterning on this box which covers all sides and lid is meant to emulate a covering of prestigious embroidered textile (see Binkley & Darish, 2009, pl. 42 for a box with related patterning.)
Kuba women kept crescent-shaped boxes such as this example in which they kept cosmetics, beads, and other personal possessions (Ginzberg, 2000, p. 70). This example was used to keep red camwood powder – remnants of the powder are caked to the interior. Camwood powder was mixed with palm oil to form a red paste-like pigment (tool) that was applied as a body decoration and for dyeing textiles.
A box of similar form is illustrated in Ginzburg (2000, p. 70).
The box here is without cracks or repairs. Its contours have become rounded with use and age. The patina is deep and rich.
References
Binkley, D. A. & P. Darish, Visions of Africa: Kuba, 5 Continents, 2009.
Dyke, C. V., African Art from the Menil Collection, Yale University Press, 2008.
Ginzberg, M., African Forms, Skira, 2000.