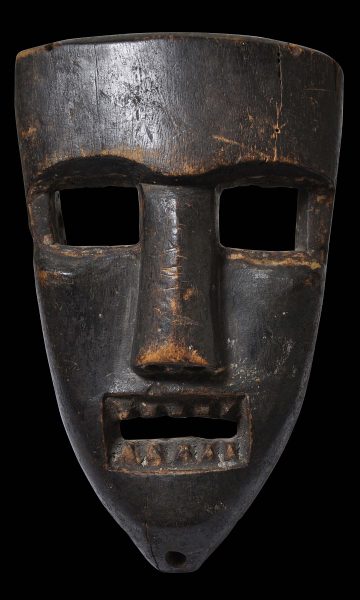 4331
Enquiry about object: 4331
Carved Wooden Mask
Himalayan India - Northern Bengal or Himchal Pradesh 18th-19th century
height: 22cm, width: 13.6cm
This elegant, well-shaped mask is from the Himalayan parts of northern India, perhaps from northern Bengal or Himachal Pradesh state. It has been carved with deeply-set rectangular eyes; a long, thick nose with two nostrils; a rectangular mouth carved with a full set of teeth; and a triangular chin.
Holes have been drilled around the interior edge of the mask to allow it to be sewn to a head covering. The holes show wear and desirable unevenness. The surface of the mask shows wear everywhere, and the edges have been worn smooth and have a dark, lustrous patina. A dating of 18th or 19th century is reasonable although Pannier (2009,p. 22) mentions that some masks from the Himalayan region and now in European collections have been carbon dated to the 15th century.
Such a mask would have been used in dance rituals associated with the shamanic veneration of gods and spirits. Such rites have their origins in pre-Buddhist times.
The mask was acquired in the UK and most probably was collected during the colonial era. It is in a fine, stable condition.
References
Aryan, S. & B.N. Ayran, Unknown Masterpieces of Indian Folk and Tribal Art, KC Aryan's Home of Folk Art, 2nd & enlarged ed., 2016.
Pannier, F. (ed.), Masks of the Himalayas, 5 Continents, 2009.