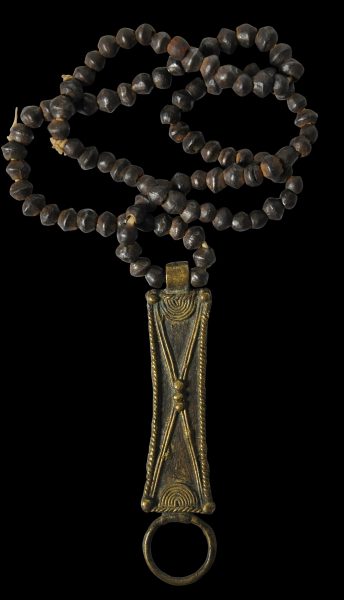 2850
Enquiry about object: 2850
Cast Brass Pendant & Brass Bead Necklace
Asante/Ashanti, Ghana, West Africa early 20th century
length of pendant: 12.5cm, length of chain: 66cm, weight: 193g
This beautiful necklace and pendant originally came from West Africa, most probably from the Ashanti people of Ghana. The necklace itself comprises dozens of hand-cast brass beads. The pendant is rectangular with a ring at the end. The front of the pendant has been cast using the lost wax process with geometric motifs.
A related necklace with similar beads is illustrated in Robbins & Nooter (1989, p. 201.)
The necklace and pendant set has a superb patina and clear age. It is also stable and wearable.
References
Robbins, W. M. & N. I. Nooter, African Art in American Collections, Smithsonian Institution Press, 1989.