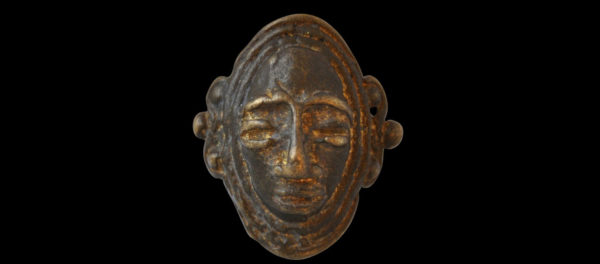 1871
Enquiry about object: 1871
Cast Brass Trophy Head Ring with Traces of Gold
Baule, Mali 18th-19th century
length of bezel: 3.5cm, weight: 17g, ring size (UK): L, (US): 5.75
Provenance
Private Collection, Germany, acquired 1960-81
This very fine and highly sculptural ring has been cast with a large, oval bezel in the form of a mask or head. Most likely, it represents the severed head of vanquished enemy chiefs (Philips, 2010, p. 135). The ring has traces of gilding suggesting a chiefly or royal provenance. Indeed, the ring was likely to suggest the power and status of its wearer.
Baule rings cast with masks, faces or trophy heads are very rare. More typically, such a motif is encountered as a pendant or goldweight (Robbins & Nooter, 1989, p. 204.)
Similar Baule pendants that are either of gold or are gilded and which feature faces are illustrated in Coquet (1998, p. 131).
The ring here has substantial wear and a dark chocolate colour. It is marked to the underside with two old collection inventory numbers.
References
Coquet, M., African Royal Court Art, University of Chicago Press, 1998.
Phillips, T., African Goldweights: Miniature Sculptures from Ghana 1400-1900, Edition Hansjorg Mayer, 2010.
Robbins, W. M. & N. I. Nooter, African Art in American Collections, Smithsonian Institution Press, 1989.