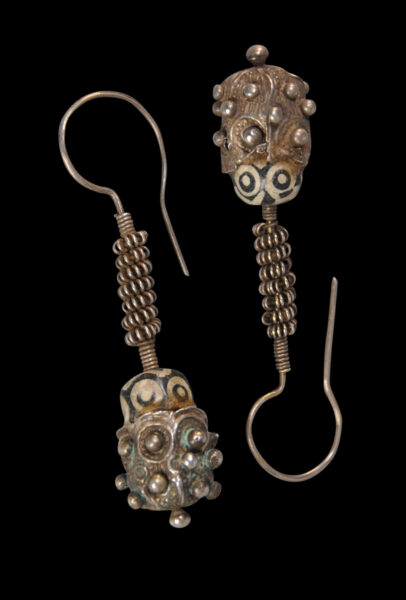 6954
Enquiry about object: 6954
Central Asian Silver & Glass Bead Earrings
Uzbek People, Central Asia, including Uzbekistan, Kyrgyzstan & Turkmenistan, or Nuristan, Afghanistan 19th or early 20th century
height: 6.7cm, combined weight: 14g
Provenance
private European collection
This unusual pair of earrings is from Central Asia, probably from the Uzbek People and certainly from either of Uzbekistan, Kyrgyzstan, Turkmenistan, or Nuristan in what is now Afghanistan.
Each comprises a silver 'fish hook' clasp, a mid-section of intricately wound silver wire, which leads to an unusual black and white glass bead, with silver mounts decorated with applied granulation work.
The lower sections have the appearance of a mulberry – a common motif in Central Asian jewellery and art.
Related earrings are illustrated in Seiwert (2009, p. 193).
The earrings here are in fine condition with obvious age.
References
Seiwert, W.D., Jewellery from the Orient: Treasures from the Bir Collection, Arnoldsche Art Publishers, 2009.