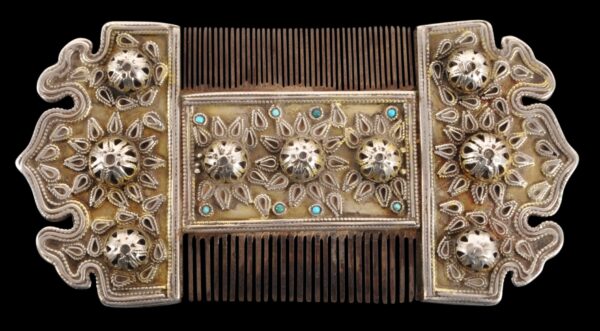 9209
Enquiry about object: 9209
Central Asian Parcel-Gilt Silver Comb inset with Turquoise
Uzbek people, Central Asia 19th century
length: 14.4cm, width: 7.5cm, weight: 173g
Provenance
private collection, Germany
This double-sided, double comb is from Central Asia, most probably from the Uzbek people.  It comprises a wooden double headed comb in a silver casing decorated with gilding, applied silver bosses and inset with small turquoise cabochons.
The interplay between the gold and the silver is particularly pleasing.
Most probably such a comb would have been worn on festive occasions and would have been part of a marriage dowry.
The comb is in excellent condition and is without losses.
References
Cruse, J., The Comb: Its History and Development, Robert Hale Ltd, 2007.