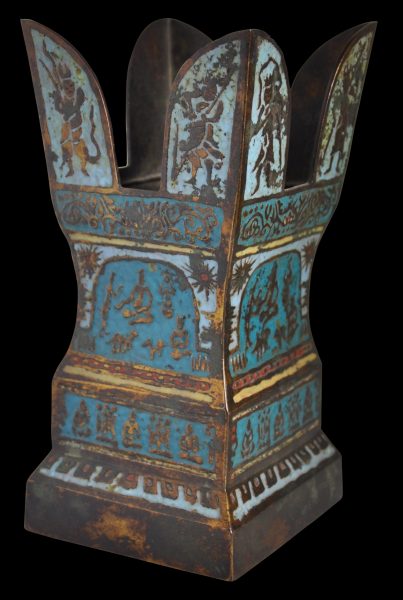 4541
Enquiry about object: 4541
Champleve Enamelled & Gilded Bronze Stupa with Jataka Tales
China Ming Dynasty, circa 15th century
height: 20.2cm, width: 10cm, weight: 1,254g
Provenance
private collection of Maurice Collis (1889-1973); thereafter by descent.
This stupa is of four sides with a double square base and winged corners at the top. The exterior is decorated in relief and also with champleve enamel in two tones of blue, yellow and red. The exposed bronze has remnants of gilding (gold plating).
The lower register on each side shows seated figures of the Sakyamuni Buddha.
The central panel, shows, beneath a pale blue arch, the Mahasattva Buddha as heir apparent offering his body to feed a hungry lioness and her cub – based on a Jataka tale.
The upper winged corners are decorated with standing figures waving what appear to be swords. Probably these represent the celestial guardians of the eight points of the compass.
It is unmarked but most probably dates to around 15th century China, and is a based on bronze examples made in 955AD on the orders of Qian Chu, the last ruler of the 10th century Wuyue Kingdom of south-eastern China who is said to have followed Ashoka's example of commissioning stupas to commemorate the Buddha.
Ashoka, the Indian prince who ruled most of the Indian subcontinent from around 268 to 232 BC and who was an adherent to the Buddha's teachings was said to have erected 84,000 stupas to enshrine the sacred relics of the cremated Buddha.
A line drawing of a stupa base of almost identical form and decoration dated to AD955 to the example here is shown in Bushell (1914, p. 93).
Click here to see a related bronze version dated to 907-960 in the Harvard Art Museum. The same stupa is illustrated in Prosser (2010, p. 63). A gilded example is illustrated in Xu (2007, p. 77). Another is in Chen (2013, p. 25). A gilt-bronze example attributed to the 17th-18th century was offered as lot 17 in Sotheby's London sale: 'Tibetan, Nepalese, Indian and South-East Asian Art', November 26, 1984.
The example here is in fine condition. It has an excellent patina and obvious age.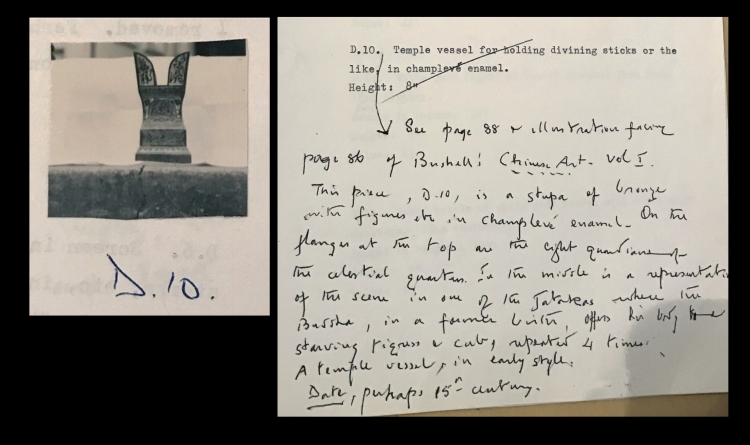 The collection notes on this piece of Maurice Collis (1889-1973). (A copy can be provided; the original has remained with the family.)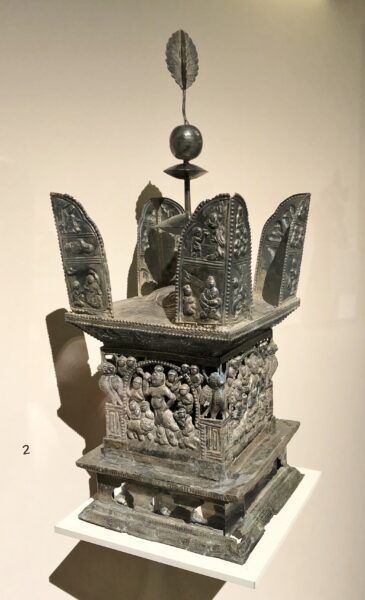 A silver example from China's Northern Song Dynasty (960-1127), displayed in the Musée National des Arts Asiatiques-Guimet (Guimet National Museum of Asian Arts.) in Paris.
References
Bushell, S.W., Chinese Art, Volume 1, Victoria & Albert Museum, 1914.
Chen, H.,Z hejiang Provincial Museum, Chang Zheng Publishers, 2013.
Proser, A., (ed.), Pilgrimage and Buddhist Art,Asia Society Museum/Yale University Press, 2010.
Quette, B. (ed.), Cloisonne: Chinese Enamels from the Yuan, Ming and Qing Dynasties, Bard Graduate Center, 2011.
Xu, H. (ed.), Suzhou Museum, London Editions, 2007.