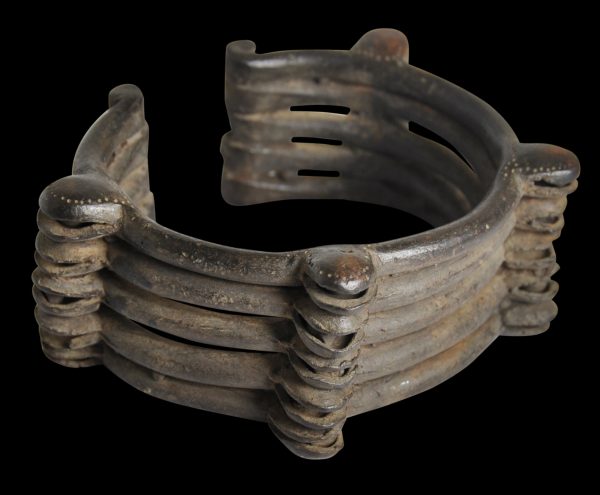 4279
Enquiry about object: 4279
Chief's Bronze 'Tiered' Anklet with Bells
Gio or Dan & Wee People, Liberia & Cote d'Ivoire 19th century
outside diameter: 11.5cm, inside diameter: 7.5cm x 8.5cm, height: 4.3cm, weight: 517g
This bronze anklet (which could now be worn as a heavy bracelet) comprises five single anklets joined together. It has seed-pod like protuberances which hold small stones and so function as rattles or bells when the anklet is moved.
The topmost anklet is incised with dot patterns.
The height of this type of anklet and the numbers of bells was determined by the owner's social status. This example would have been worn by someone of chiefly rank.
Similar examples are illustrated in Grootaers & Eisenburger (2002, p. 138) and van Cutsem (2002, p. 49).
The example here has a fine sculptural quality and a varying dark patina consistent with significant age.
References
van Cutsem, A., A World of Bracelets: Africa, Asia, Oceania, America, Skira, 2002.
Grootaers, J. L. & I. Eisenburger, Forms of Wonderment: The History and Collections of the Afrika Museum, Volume 1, Berg en Dal, 2002.