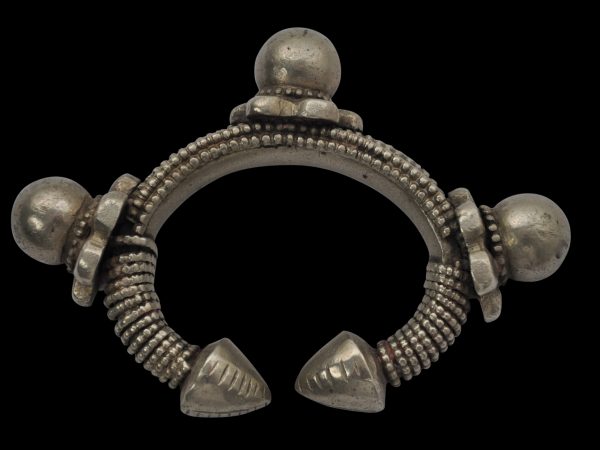 5110
Enquiry about object: 5110
Child's Heavy Silver Bracelet
Hajjah, Yemen Early 20th century
width: 9cm, height: 6.5cm, weight: 141g
– scroll down to see further images –
This very sculptural bracelet is of solid silver or silver alloy. It is heavy in the hand. Its small size suggests it was for a child to wear.
It has two cone-like finials, and three solid-cast, flower-like nodes applied equidistant around the hoop, which is further decorated by bands of granulation work.
This piece is not wearable today. It is too small for most wrists and so is more a collector's piece. If not for a child, then It is possible that it was intended originally not to be worn but to serve as a store of wealth.
References
Ransom, M.,Silver Treasures from the Land of Sheba: Regional Yemeni Jewelry, AUC Press, 2014.