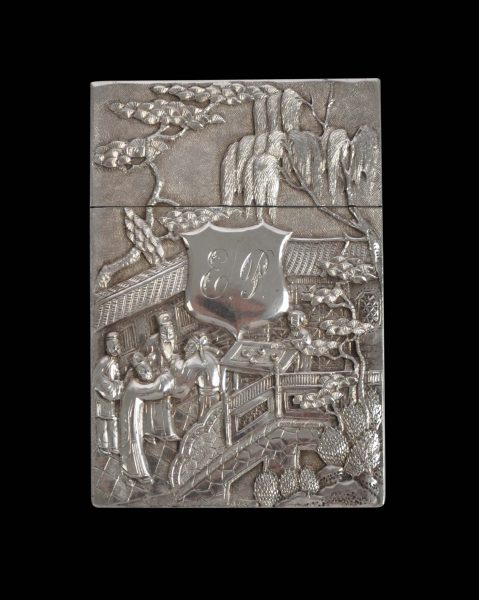 5288
Enquiry about object: 5288
Chinese Export Silver Calling Card Case by Wang Hing
Guangdong (Canton), or Hong Kong, China late 19th-early 20th centuries
length: 9.7cm, width: 6.6cm, weight: 92g
Provenance
from the estate of Alwyn Sidney Haynes (1878-1963), and thence by descent. Haynes was a colonial administrator in Malaya and the Straits Settlements between 1901 and 1934. He held many posts including Acting British Resident, Pahang (1924); British Resident, Perak (1925); British Advisor, Kedah (1925); British Advisor, Kelantan (1930); and Acting Colonial Administrator, Straits Settlements (1933), after which he retired and returned to England, and lived near Stratford-upon-Avon, and then in Leamington Spa. Haynes loaned some of the items he collected in Malaya to the Pitt Rivers Museum in Oxford in 1939. He was awarded an Order of the British Empire (OBE) in 1950.
– scroll down to see further images –
This fine, well-preserved calling or visiting card case is of chased silver, and is by the firm Wang Hing, one of southern China's most well-known producers of Chinese export silver in the late 19th and early 20th centuries.
Of elegant proportions, it is thin, and would be ideal to fit into a man's top pocket without being too obtrusive or bulky.
One side, as well as the side and top ends, are decorated with sprays of plum blossom. The other side is decorated with a group of four scholars and another in a pavilion and beneath conifer and willow trees, around a cartouche which has been engraved with the initials 'E.P.' (This could be removed readily by a future owner.)
The bottom edge is plain and stamped with 'WH', and then '90' and finally with a Chinese mark.
The case is in essentially perfect condition.
References
Chan, D.P.L., Chinese Export Silver: The Chan Collection, published in conjunction with the Asian Civilisations Museum, Singapore, 2005.
Forbes, H.A.C. et al, Chinese Export Silver 1785-1885, Museum of the American China Trade, 1975.
Marlowe, A.J., Chinese Export Silver, John Sparks, 1990.