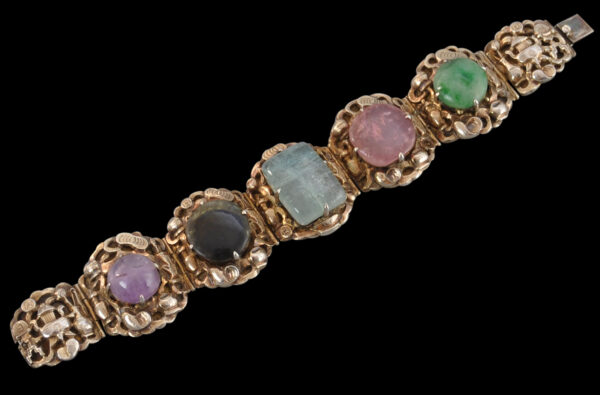 6796
Enquiry about object: 6796
Fine, Chinese Silver-Gilt Bracelet with Large, Semi-Precious Stones
China early 20th century
internal diameter: 5.9cm, total length: 17.5cm, height: 3.1cm, weight: 49g
This very fine bracelet of pierced, gilded silver set with massive semi-precious cabochon stones in claw settings is from China and dates to the first part of the 20th century.
The stones include jadeite, smoky quartz, rose quartz and tourmaline.
The bracelet comprises seven hinged panels, five of which are set with stones. The setting is gilded (gold-plated), pierced and chased with vases, Chinese coin motifs and other symbols.
The bracelet closes tightly with a box clasp. The back of the clasp is stamped with 'silver'.
Jewellery such as this example seem to have been produced in China in the early 20th century perhaps in the aftermath of the fall of the Qing Dynasty. At that time, court jewellers no longer were required, and thousands of officials attached to the Court seemed to have sold off their jewellery, much of which was used as part of Court dress. This created a large, secondary market in repurposed gems and jewellery, as well as items that could be broken down and reassembled into jewellery more suitable for Western tastes. This accorded with the modernisation of China but also with newly-found export markets for such jewellery.
The bracelet is in excellent, wearable condition. It is at the higher end of this type of Chinese jewellery in terms of quality.
References
Duda, M., Four Centuries of Silver: Personal Adornment in the Qing Dynasty and After, Times Editions, 2002.
Herridge, E., Bringing Heaven to Earth: Chinese Silver Jewellery and Ornament in the Late Qing Dynasty, Ianthe Press/Paul Holberton Publishing, 2016.
National Palace Museum, Royal Style: Qing Dynasty and Western Court Jewellery, 2012.
Nikles van Osselt, E., Five Blessings: Coded Messages in Chinese Art, Foundation Baur/5 Continents, 2011.