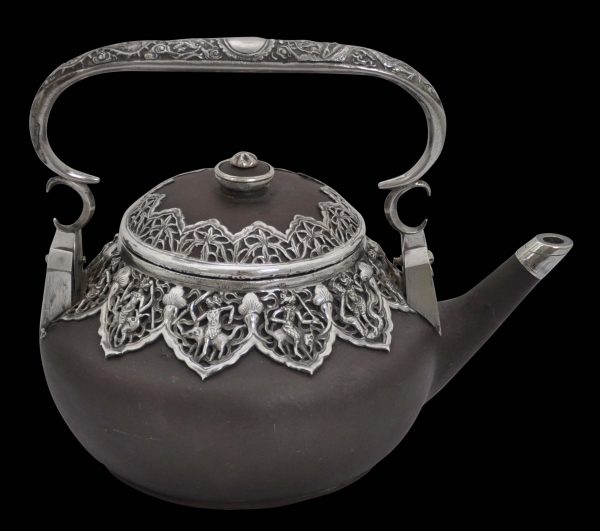 5638
Enquiry about object: 5638
Rare Chinese Yixing Teapot with Vietnamese Pierced Silver Mounts
Jiangsu, China & Vietnam 19th century
length: 20cm, height: 15cm
– scroll down to see further images –
This quite rare teapot presents an unusual hybrid – the earthenware teapot is known as Yixing ware. It is almost always seen unadorned. But this example has been exported to Vietnam, where it has been decorated with fine silver mounts that are both pierced and chased. It is only the third such teapot decorated in this manner that we have seen.
The teapot itself has a flattened, spherical body and sits on a flat base. It has a short spout and a lid that sits in the body, with a button-like finial. The mounts are about the shoulder of the body, over the lid and finial and over the end of the spout. A silver swing handle chased with two dragons chasing a large pearl has also been fitted.
The other silver is decorated with pierced vegetal motifs, and petal-like cartouches decorated with human-like figures riding various animals. Perhaps these are figures from Vietnamese folklore.
The base of the teapot is impressed with  an indistinct maker's or retailer's pictorial mark which appears to incorporate the scaly figure of a dragon.
Yixing eathernware was regarded by many in China and elsewhere in Asia as the superior material for brewing Chinese green tea. Made in Jiangsu province on the east coast of China, it was also exported to Burma, Thailand and Vietnam particularly. The unglazed, porosity of Yixing teaware allowed the tea to seep into the teapot's walls allowing the teapot to impart more taste and fragrance thereafter.
The teapot is in fine condition with no apparent losses t the silver mounts.
References
Pan, C., Yixing Pottery: The World of Chinese Tea Culture, Long River Press, 2004.