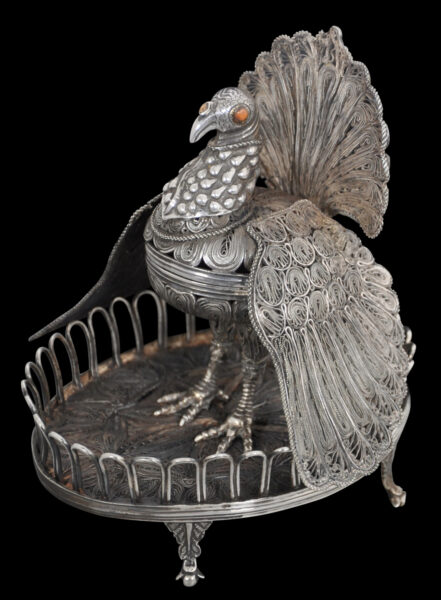 7115
Enquiry about object: 7115
Silver Filigree Incense Burner (Sahumador) Modelled as a Turkey & set with Coral
Peru, probably Ayucucho circa 1800
width: 15cm, depth: 14cm, height: 17cm, weight: 576g
This incense burner or sahumador modelled as a turkey has been executed almost entirely in silver filigree work. The rendering of the turkey is naturalistic. Unusually, both eyes and the snood (the flap of skin over the beak) have been set with coral cabochons in box settings. The neck is covered with a fine, wide repoussed silver collar.
The turkey is in two halves, with the top half lifting back but being hinged to the bottom half, to reveal the interior where the burning incense would have been placed.
The turkey stands on an oval silver filigree platform with a raised scalloped edge all the way round composed of thicker silver wires. The dish stands on four rococo solid cast silver feet.
The turkey is bolted to the filigree plate by means of two silver nuts and bolts apparent from the underside of the plate.
Silver filigree work was introduced to South America by colonial Spanish and Portuguese. There had already been a strong legacy of silver and gold usage in South America, both metals being mined and worked locally for local rulers. The Incas evocatively referred to gold as ' the sweat of the sun' and silver as the 'tears of the moon'.
This item possibly is from Ayucucho, a small central Peruvian city founded by the Spanish in 1544 and which became a centre for silver filigree production. Other silver filigree incense burners in the form of turkeys are known to have come from Ayucucho.
Similar examples of Peruvian silver filigree incense burners in the shape of a turkey are illustrated in Luis Ribera & Schenone (1981, p. 299), de Lavalle & Lang (1974, p. 109), and Taullard (2004). And see a similar example in the Hermitage Museum, Russia.
The example here has wonderful patina and the silver has excellent colouring. It is complete but there are some age-related breaks to the filigree. These are stable and obscured by the overall profusion of the piece. Overall, this is a splendidly decorative piece evocative of the colonial era in South America.
References
de Lavalle, J.A. & W. Lang, Plateria Virreynal: Arte Y Tesoros del Peru, Banco de Credito del Peru an la Cultura, 1974.
Luis Ribera, A., & H.H. Schenone, Plateria Sudamericana de los Siglos XVII-XX, Hirmer Verlag Muchen, 1981.
Taullard, A., Plateria Sudamericana, Ediciones Espuela de Plata, 2004.