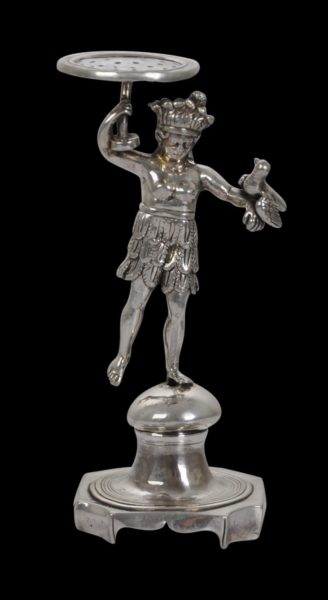 5988
Enquiry about object: 5988
Fine, Colonial South American Silver Toothpick Holder
Peru or Bolivia, Colonial South America 18th century
height: 11.8cm, weight: 124g
– scroll down to see further images –
This item is of high-grade, solid silver and served as a tooth pick holder. It is of Spanish or Portuguese conception and most probably was made in one of the colonies of South America, either Peru or Bolivia, in the 18th century.
It comprises an elegant eight-sided stand that rises to a semi-sphere on which a figure of an idealised South American native stands. A dove rests on his outs-stretched left hand and aloft in his right had is a round plate perforated so that on it toothpicks can stand erect.
The figure (who is probably a female but could be a male) wears a feathers skirt, a a feather headdress, and has long hair that falls down the back. The headdress and skirt are very much reminiscent of that worn by chiefs of the Tupi people of Brazil. Several of these headdresses were brought back to Europe and entered into the cabinet of curiosities of Europe's royals. An example is illustrated in Cattaneo et al (2009, p. 189).
The presence of the dove most probably is a reference to the conversion of the native peoples of South America to Christianity on the part of their Iberian colonisers. In Christian iconography, a dove tends to symbolise the Holy Spirit and in the Gospels Matthew 3:16 and Luke 3:22, the Holy Spirit is compared to a dove at the Baptism of Jesus. That the Holy Spirit descended on Jesus in the bodily form of a dove also is mentioned in Mark 1:10 and John 1:32. So in this way, the descent by a dove on the arm of the figure here can be seen as an allegory of the acceptance of Jesus on the part of the native peoples.
The side of the stands has a now-illegible assay stamp and an associated 'zig-zag' scraping done as part of the assaying.
The feathered native figure is a motif that appears from time to time in Iberian colonial silver. Luis Ribera & Schenone (1981, p. 317) illustrate a tinder tube attributed to Peru, 1820,  in which such a figure forms the item's finial. De Lavalle & Lang (1974, p. 126) illustrate a candlestick attributed to Bolivia which incorporates a similar figure.
The item here is in excellent condition with wear and a patina commensurate with its age. It is a splendid, small sculptural piece.
References
Cattaneo, A., et al, Portugal and the World: In the 16th and 17th Centuries, Museu Nacional de Arte Antiga, Lisbon, 2009.
de Lavalle, J.A. & W. Lang, Arte y Tesoros del Peru: Plateria Virreynal, Banco de Credito del Peru en la Cultura, 1974.
Luis Ribera, A., & H.H. Schenone, Plateria Sudamericana de los Siglos XVII-XX, Hirmer Verlag Muchen, 1981.