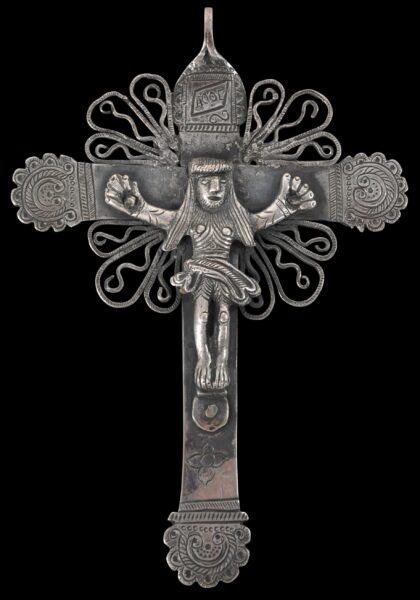 9364
Enquiry about object: 9364
Colonial Spanish Peruvian Silver Crucifix
Spanish Colonial Peru circa 1800
length: 16.2cm, width: 11.1cm, weight: 138g
This silver depiction of Christ on the Cross is typical of early 19th century Peruvian depictions of the Crucifixion. The figure of Jesus has been rendered in a charmingly naive way. The Cross itself is of budded form and has been embellished with engraved feathery patterns. It has been further decorated with radiating  silver wires that provide a halo effect.
Christ has a copious loin cloth and has been rendered with particularly lengthy hair.
The top of the Cross has a loop to allow suspension.
The reverse has a silver hook presumably to allow it to be more securely worn.
The Christ has been separately cast and is fixed to the Cross via silver rivets.
The item is in fine condition and has obvious age.
References
Torres della Pina, J., & V. Mujica Diez Canseco (eds.), Peruvian Silver and Silversmiths, Patronato Plata del Peru, 1997.