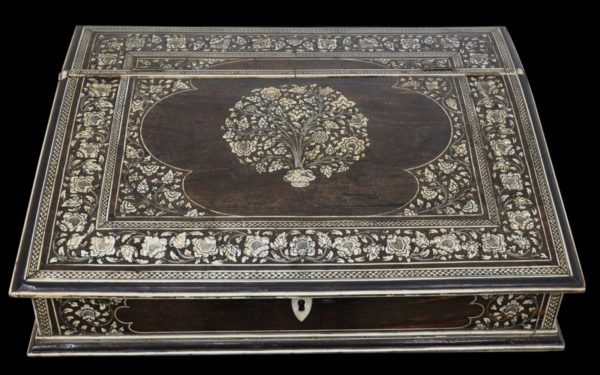 6113
Enquiry about object: 6113
Colonial Vizagapatam Ivory-Inlaid Portable Writing Box
Vizagapatam, India 1720-30
width: 43.6cm, depth: 34cm, height: 11.4cm
Provenance
private collection, London.
This writing box is of ebony and has been inlaid finely with ivory veneer arrayed in swirling floral patterns. The ivory is engraved and highlighted with lac. The box has two compartments, a larger front one, and a smaller rear one. Both are covered with hinged lids, with the front lid having the traditional slope.
All sides and lids are decorated with ivory inlay. The main lid is decorated with an extremely fine central 'tree-of-life' motif.
It was made in Vizagapatam, on the southeast coast of India, in the early eighteenth century for the European market. Vizagapatam is situated midway between Calcutta and Madras and was a busy trading port by the 17th century exporting Indian-made textiles to around the world. By the early 18th century, a local industry emerged for the manufacture of small ivory-inlaid wooden items such as this box and these too were exported, mostly to Europe. The items were the luxury goods of their time. They were costly and destined for only the grandest houses.
Jaffer (2001, p. 181) comments in relation to a related box that, 'The complex design of fine, inlaid scrolling vines and flowers is found on a group of boxes and cabinetware dating from the first half of the eighteenth century, although here the inlay is uncommonly dense.' And so it is with this box – the inlay work is especially fine and complex.
Both the rear and front compartments are lockable and there are still locks attached but the keys no longer are present.
See Bennett & Kelty (2014, p. 263) for a (restored) box of similar proportions and with related Vizagapatam inlay work.
The box appears to have had some modifications over the years. Probably, the interior of the front compartment was divided into smaller compartments (the rear compartment is divided into three smaller compartments), and there might have been side handles which have since been removed. The box is in fine condition overall, and has some of the finest ivory inlay work of early Vizagapatam furniture that we have seen.
Note: this item contains antique ivory but which amounts to less than 10% by volume. It therefore has, as is required by UK law, a non-transferable, UK Ivory Act 2018 exemption permit, submission reference number: YFT9SAXW
References
Bennett, J., & R. Kelty, Treasure Ships: Art in the Age of Spices, Art Gallery of South Australia, 2014.
Bennett, J., & R. Kelty, Treasure Ships: Art in the Age of Spices, Art Gallery of South Australia, 2014.
Jaffer, A., Furniture from British India and Ceylon: A Catalogue of the Collections in the Victoria and Albert Museum and the Peabody Essex Museum, Timeless Books, 2001.
Jaffer, A., Luxury Goods from India: The Art of the Indian Cabinet Maker, V&A Publications, 2002.
Tchakaloff, T.N. et al, La Route des Indes – Les Indes et L'Europe: Echanges Artistiques et Heritage Commun 1650-1850, Somagy Editions d'Art, 1998.