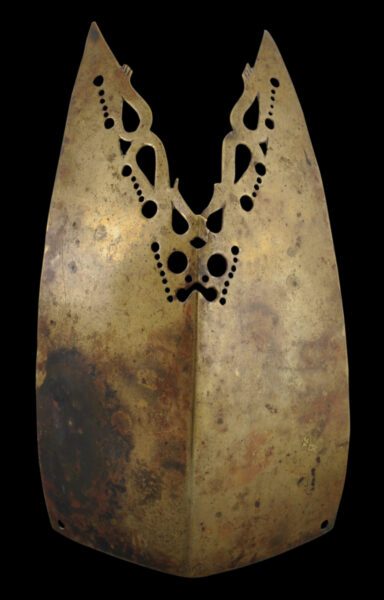 7207
Enquiry about object: 7207
Fine, Dayak Brass Helmet Ornament
Dayak People, Borneo, Malaysia/Indonesia 19th century
width: 10.6cm, height: approximately 17.5cm, weight: 93g
This hammered brass plate was designed to be worn on a tightly fitting hat or helmet over the forehead as part of a Kenyah and Kayan Dayak warrior's costume. It has an elegant shape with the top having been cut out and pierced so that the plaque when inverted has the form of a stylised ghostly mask.
Small holes in each of the bottom corner would have allowed it to be fixed to a hat or rattan helmet.
Examples of such forehead plates are illustrated in Schoffel (1981, p. 155), van Cutsem (2005,p. 211), Schefold (2013, p. 128), Feldman (1994, p. 69), Rodgers (1995, p. 279), and Richter (2000, p. 222).
The example here has a lovely sculptural form and a splendid lustrous and varying brown patina: it has clear and obvious age. It is in fine condition other than for a small but stable fracture to a small part of the fretwork and a tiny loss a spiky detail.
References
van Cutsem, A., A World of Head Ornaments: Africa, Asia Oceania, America, Skira, 2005.
Feldman, J.A., Arc of the Ancestors: Indonesian Art from the Jerome L. Joss Collection at UCLA, Fowler Museum of Cultural History, 1994.
Richter, A., The Jewelry of Southeast Asia, Thames & Hudson, 2000.
Rodgers, S., Power and Gold: Jewelry from Indonesia, Malaysia and the Philippines, The Barbier-Mueller Museum, Geneva, 3rd ed. 1995.
Schefold, R. (ed.), Eyes of the Ancestors: The Arts of Island Southeast Asia at the Dallas Museum of Art, Dallas Museum of Art/Yale University Press, 2013.
Schoffel, A., Arts Primitifs de l'Asie du Sud-Est (Assam, Sumatra, Borneo, Philippines): Collection Alain Schoffel, Alain et Francoise Chaffin, 1981.