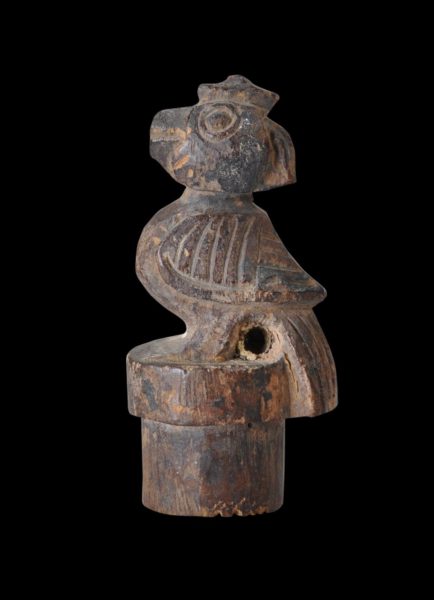 5768
Enquiry about object: 5768
Dayak Wooden Hornbill Bird Stopper
Dayak People, Borneo, Malaysia 19th century
height without stand: 8.3cm, height with stand: 9.3cm
Provenance
Private collection, UK
This very charming carved wooden stopper from the Dayak people of the island of Borneo shows a perched hornbill bird.
The wood has a fine patina with clear signs of age and use.
Such stoppers were used to close bamboo containers that held powdered lime that was an integral part of the betel quid.
A related stopper is in the British Museum. Other examples are illustrated in Schoffel (1981, p. 150).
The hornbill (Rhinoplax vigil) is a large forest bird known for its enormous orange-red beak and casque and dark blue feathers. It was regarded with enormous symbolic importance among the Dayak of Borneo's interior and played an important role in their creation myths. Many of Borneo's indigenous groups traditionally viewed the hornbill as a representation of the upper-world god. The wearing of hornbill feathers and carved casques during ceremonies conveyed the high status, power and prestige of the wearer.
The example here comes with a high-quality custom-made metal stand. There is some probable old loss to the beak.
References
Schoffel, A., Arts Primitifs de l'Asie du Sud-Est (Assam, Sumatra, Borneo, Philippines): Collection Alain Schoffel, Alain et Francoise Chaffin, 1981.