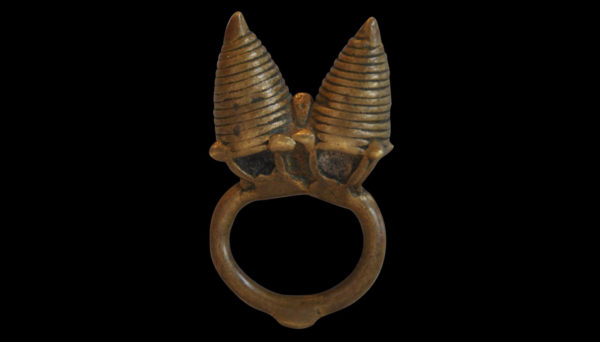 1869
Enquiry about object: 1869
Dogon Cast Brass Fertility Pendant
Dogon People, Mali 19th century
height: 4.3cm, weight: 15g
Provenance
Private Collection, Germany, acquired 1960-81
This brass (copper alloy) pendant is cast with two cone-like finials that are decorated with a spiral or coil motif. The form appears to be based on the antlers of an antelope (walu), a form more usually employed on Dogon masks (see Lamp et al, 2012, p. 102 for an example), or as van Cutsem (2000) suggests, on the shape of typical traditional Dogon granaries with pointy roofs.
Such pendants usually are described in the literature as (finger) rings, but the roundness of the hoop suggests otherwise. de Groote (2020, p. 57) more accurately describes such items as pendants.
A similar example, described as a ring. is illustrated in van Cutsem (2000, p. 65).
The pendant has splendid wear with softened contours, and a fine chocolate colour. It is marked to one side of the bezel with an old collection inventory number.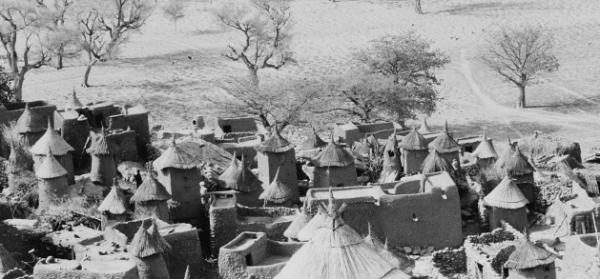 References
van Cutsem, A., A World of Rings: Africa, Asia, America, Skira, 2000.
de Groote, P., Metalworking in West Africa, Lannoo, 2020.
Lamp, F.J., A.M. Maples & L.M. Smalligan, Accumulating Histories: African Art from the Charles B. Benenson Collection at the Yale University Art Gallery, Yale University Press, 2012.