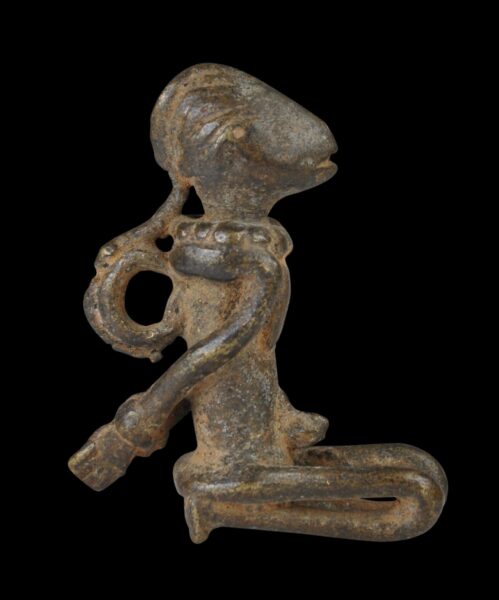 9374
Enquiry about object: 9374
African Dogon Cast Brass Pendant of a Seated, Bound Female Slave
Dogon People, Mali 19th century or earlier
height: 6.7cm, weight: 134g
This cast brass pendant is of a female captive or slave figure seated on her knees, with arms thrust behind her back and her wrists bound. She has long hair, a large beaded necklace, elongated breasts, and a distended naval. A loop for suspension has been cast to the back. The pendant is from a time when the Dogon were subjected to slave raids by other tribes, particularly Muslim Fulani tribesmen.
A related example was offered as lot 210, in Sotheby's 'African, Oceanic and Pre-Columbian Art', New York, May 13, 2011. Other examples (lots 12, 15, 16 and 24) were included in Sotheby Parke Bernet (London), 'The George Ortiz Collection of Primitive Works of Art', June 29, 1978.
The Dogon mostly were farmers. Their ancestors came from southwest Mali and northeast Guinea that was home to the 13th century Mali empire. They migrated after the empire's collapse to the cliffs of the Bandiagara plateau, which provided good protection from slave raiders coming from the desert. The arrival of the French in 1893 saw the end of the slave raids and the Dogon subsequently expanded to the plains around the plateau.
Traditionally the Dogon had elaborate cosmological beliefs and spectacular rituals. Communication with the gods was achieved through a variety of means including through sacrifices.
The pendant here as an excellent patina and obvious age.
References
Brincard, M. (ed.), The Art of Metal in Africa, The African American Institute, 1982.
Ezra, K., Art of the Dogon: Selections from the Lester Wunderman Collection, The Metropolitan Museum of Art, 1988.