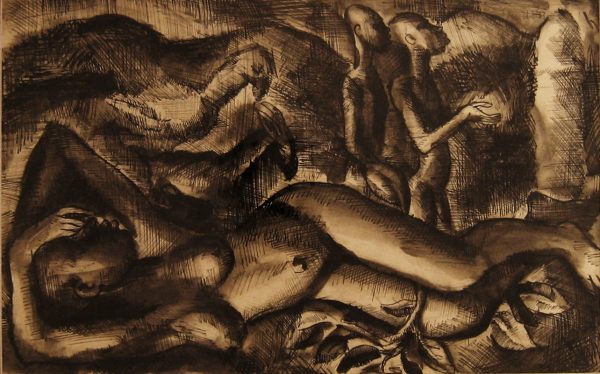 1044
Enquiry about object: 1044
African Dream, signed 'Donald '39' and on the back of the frame in Friend's hand: 'Pen and wash drawing. West Africa 1938 by Donald Friend. Belonging to Richard Griffin.' And then in Richard Griffin's hand: 'Given to me by Donald.', Pen and Ink wash
Australia 1938
height: 21cm, width: 33cm; with frame – height: 48cm, width: 61cm
Provenance
Given by the artist to Richard Griffin. Then Holdsworth Galleries, Woollahra, Sydney, from where it was purchased in 1996.
This early painting by Donald Friend, shows an African woman asleep with two African men, two birds and a phallus-type object in the background. It demonstrates Friend's great skill as a draughtsman.
Friend is one of Australia's best known artists. He lived for an extended time on Bali and painted Balinese scenes and so is a popular foreign artist among Indonesian and Singaporean collectors as well as having a large following in Australia. His paintings are found in most major Australian public galleries and in prominent Indonesian collections such as the Lippo Group collection.
In 1936, Friend travelled from Sydney to London where he studied at Westminster Art School. In 1937 he took part in his first group exhibition at REA Wilson's Gallery at 32 Cork Street, London. In 1938, he travelled to West Africa, arriving in Lagos. He travelled to Ikerre, inland in Ekiti province, where he met the Ogoga (ruler) Awolodulo II who appointed him his financial adviser in 1939. It is around this time that the painting here was undertaken.
Friend returned to Sydney in 1941. In 1945 he was made an official war artist and is sent to New Guinea and Borneo before returning to Sydney. In 1949, he visited Ceylon (Sri Lanka) while on his way to Italy. He returned to Ceylon to live in 1957, staying until 1961. In 1966 he visited Bali and decided to stay, building a house near the beach at Sanur. He became one of Bali's most famous residents and received many well known foreign visitors at his house. He stayed until 1980 when he returned to Sydney.
This painting is a rare example of Friend's very early work. It is also of significant historical interest on account of its provenance. It was a gift by the artist to Richard Griffin, the owner and founder of Gryphon Books, the Melbourne-based publisher of Friend's books: Tides of Sensuality (1978), Coogan's Gully (1979), Bumbooziana (1979), The Farce of Sodom (1980), An Alphabet of Owls (1981),The Voyage of the Tamar (1983), Brief Encounters (1984) and Art in a Classless Society and Vice Versa (1985). The reverse of the frame is annotated in both Friend's and Griffin's hand explaining the provenance. A label printed 'RG Ex Libris' is also attached to the reverse.
References
Pearce, B., Donald Friend 1915-1989: Retrospective, Art Gallery of New South Wales, 1990.