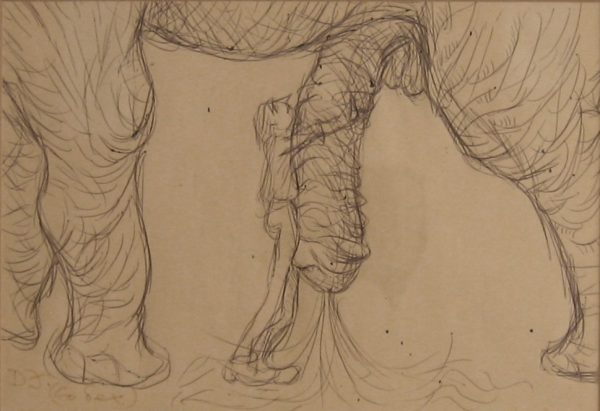 1045
Enquiry about object: 1045
Donald Friend (Australia, 1915-1989), Ambitions – Bali, circa 1978, signed 'D.F. (Codex)', Ink and Pencil
Australia circa 1978
height: 12.5cm, width: 19cm; with frame – height: 34cm, width: 37.5cm
Provenance
private collection, UK; acquired in Australia in the 1990s.
– scroll down to see further images –
This humorous painting shows a figure of a man beneath what a male elephant. Despite its cartoonish nature it demonstrates Friend's skill as a draughtsman.
Friend is one of Australia's best known artists. He lived for an extended time on Bali and painted Balinese scenes and so is a popular foreign artist among Indonesian and Singaporean collectors as well as having a large following in Australia. His paintings are found in most major Australian public galleries and in prominent Indonesian collections such as the Lippo Group collection.
In 1936, Friend travelled from Sydney to London where he studied at Westminster Art School. In 1937 he took part in his first group exhibition at REA Wilson's Gallery at 32 Cork Street, London. In 1938, he travelled to West Africa, arriving in Lagos. He travelled to Ikerre, inland in Ekiti province, where he met the Ogoga (ruler) Awolodulo II who appointed him his financial adviser in 1939. He returned to Sydney in 1941. In 1945 he was made an official war artist and is sent to New Guinea and Borneo before returning to Sydney. In 1949, he visits Ceylon while on his way to Italy. He returned to Ceylon to live in 1957 where he stayed until 1961 In 1966 he visited Bali and decided to stay, building a house near the beach at Sanur. This drawing was executed around the time of Friend' s stay on Bali and is likely to be preparatory work for one of his many books, possibly Bumbooziana. He stayed on Bali until 1980 when he returned to Sydney.
References
Pearce, B., Donald Friend 1915-1989: Retrospective, Art Gallery of New South Wales, 1990.