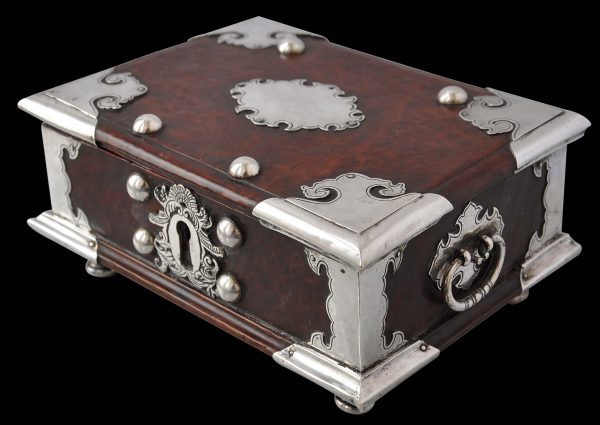 1716
Enquiry about object: 1716
Dutch Colonial Amboyna Wood & Red Lacquer Betel Box with Silver Mounts
Batavia, Dutch East Indies late 17th-early 18th century
height: 8.8cm, length: 20cm, depth: 14.5cm, weight: 794g
Provenance
collection of Paul Walter; Spink, London
– scroll down to see further images –
This fine Dutch colonial betel or sirih box from Batavia, in the Dutch East Indies, comprises bevelled amboyna burlwood with silver mounts. The silver corner mounts are in the form of stylised clouds suggesting Chinese influence. The key-plate is of engraved silver and may not be original but probably is contemporary with the box. The box sits on four solid cast silver feet. The bolts are hidden by prominent silver domed bolt covers: four on the front, four on the hinged cover, and two on the rear. Solid cast silver handles are attached to each side.
Prominent silver hinge flanges are attached to the inside of the box. These are of an unusual shape and attach the lid or cover to the base.
The bottom of the base, all the interior base, and part of the interior lid are decorated with original old red lacquer.
A related box illustrated in Krohn & Miller (2009, p. 252) which is in the Peabody Essex Museum has similar silver mounts but also similar red lacquer decoration.
The Javanese habit of chewing betel was adopted by the local Dutch and exquisite boxes to hold the nut, the betel leaf and the other accompaniments were commissioned by the Dutch. The Dutch realised early on how important betel was to the indigenous people and how it was an essential part of hospitality including with the indigenous rulers. They quickly incorporated betel use with their dealings with local elites. Paintings that show the wives of Dutchmen at the time often show betel boxes prominently displayed. One such seventeenth century painting by J.J. Coeman which today hangs in the Rijksmuseum shows Batavia's Cornelia van Nieuwenroode with her husband Pieter Cnoll and two of their nine daughters, one of who is shown holding a jewelled betel box (Gelman Taylor, 2009, p. 42).
The fashion for luxurious betel accoutrements and other finery saw the governor-general in Batavia Jacob Mossel issue a decree in 1754 stating that only the wives and widows of the governor-general, the director-general, members of the Council of the Indies and president of the Justice Council were permitted to
use gold or silver betel boxes adorned with precious stones, (Zandvlieyt, 2002, p. 206).
There are no maker's marks to the silver on this example. The box clearly is of Batavian origin, and the use of red lacquer suggests and early rather than a late eighteenth century dating and possibly even a seventeenth century dating.
References
Krohn D.L. & P.N. Miller (eds.), Dutch New York Between East and West: The World of Margrieta van Varick, Bard Graduate Center/The New York Historical Society/Yale University Press, 2009.
Veenendaal, J., Furniture from Indonesia, Sri Lanka and India During the Dutch Period, Foundation Volkenkundig Museum Nusantara, 1985.
Voskuil-Groenewegen, S.M. et al, Zilver uit de tijd van de Verenigde Oostindische Compagnie, Waanders Uitgevers, 1998.