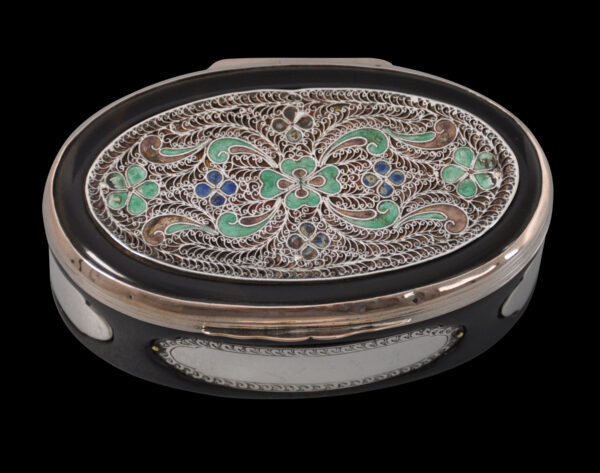 6734
Enquiry about object: 6734
Dutch Colonial Tortoiseshell Snuff Box with Silver Filigree & Enamel
Dutch Colonial - Batavia, Dutch East Indies, or China 18th century
width: 7.4cm, depth: 5cm, height: 3.1cm, weight: 56g
This fine box of oval form was for snuff (powdered tobacco), the sniffing of which was fashionable in Europe in the 18th century. This box, of tortoiseshell with silver mounts, has a hinged lid. The lid is inset with an oval silver plate that has been overlaid with fine silver filigree work with scrolling leaf and flower motifs, and decorated with green, blue and yellow enamel.
The sides are decorated with four silver plaques. The two longer of the four have engraved borders.
Typically, this work is ascribed to China, but possibly was produced in the Dutch East Indies, probably in Batavia, for sale in Europe, at the behest of the Dutch East India Company or  Vereenigde Oostindische Compagnie (VOC).
A box in silver and decorated all over with related silver filigree and with Batavian assay marks for the 18th century is illustrated in Voskuil-Groenewegen (1998, p. 145). Other examples of items of 18th century silver filigree and enamel made in Asia for the European market are illustrated in Chan (2005, p. 58) and Marlowe (1990, p. 63 ). These items are assumed to be made in China but the assumption could be erroneous.
The tortoiseshell on the inside of the cover has an old, stable crack, that is not visible from the outside. Otherwise, the box is in fine condition.
References
Chan, D.P.L., Chinese Export Silver: The Chan Collection, published in conjunction with the Asian Civilisations Museum, Singapore, 2005.
Marlowe, A.J., Chinese Export Silver, John Sparks, 1990.
Voskuil-Groenewegen, S.M. et al, Zilver uit de tijd van de Verenigde Oostindische Compagnie, Waanders Uitgevers, 1998.