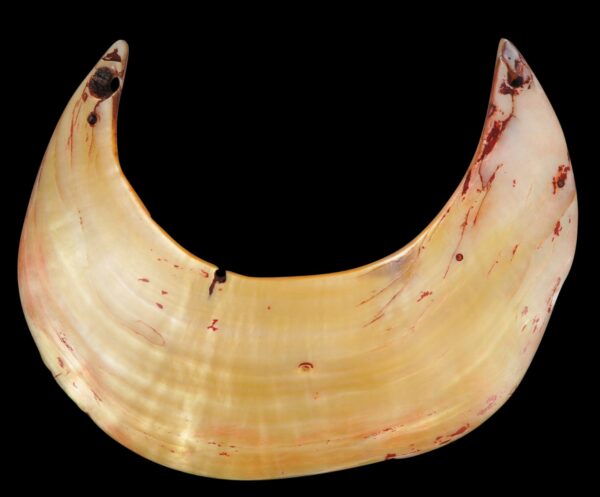 9195
Enquiry about object: 9195
Large & Early Kina Shell Pectoral Pendant with Stone-Drilled Holes
Western Highlands, Papua New Guinea late 18th-19th century
width: approximately 19cm, weight: 183g
Provenance
Julian Harding Collection, London
This pectoral ornament or pendant comprises a crescent form kina shell segment with remnants of applied red pigment. It is an exceptional example because the holes at each end have been drilled by a stone tool, suggestive that that pendant has significant age and dates to the period of pre-European contact.
Such shell pectorals were used for ornamentation but also as a form of currency and were traded many times over. The shells were traded from coastal regions into the interior, passing through remote and often hostile tribes along the way.
Such ornaments were worn at festivals and rituals by both men and women and were demonstrative of wealth and status on the part of the wearer.
The example here is of a good size and is highly decorative with a beautiful lustre. It shows significant wear.