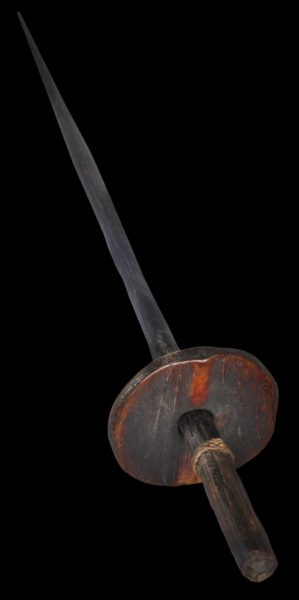 4236
Enquiry about object: 4236
Early New Guinea Wooden & Bone Mace or Club
Papua New Guinea, probably Sepik region 19th century and possibly earlier
length: 64.2cm, diameter of head: 9cm, weight: 190g
This ceremonial or dance mace or club is from New Guinea. It has exceptional patina – the colour of all elements is deep and lustrous. The age and the patina of this club is its most striking characteristic.
It comprises a long wooden shaft that tapers to a point. A round, bone plate is fixed to the other end. There is a small section of cord around the handle end.
An example of identical form but with a thin plate of stone instead of bone is illustrated in Stone (1961, p. 184).
The bone head and the wooden shaft both have a deep red-brown colour from age and handling.
The mace come with an attractive custom-made stand for display purposes.
References
Stone, G.C., A Glossary of the Construction, Decoration and Use of Arms and Armor in all Countries and in all Times, first published in 1934, Jack Brussel, 1961.