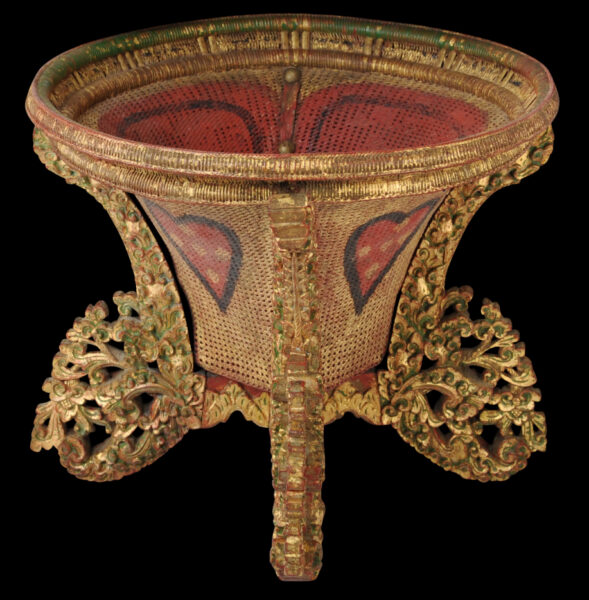 6888
Enquiry about object: 6888
East Javanese or Madurese Ceremonial Rattan & Wood Ceremonial Rice Basket
East Java or Madura, Indonesia 19th century
diameter: approximately 26cm, height: 22cm, weight: 480g
Provenance
art market, France.
– scroll down to see further images –
This item was used at important feasts in East Java and the nearby island of Madura to hold and from which cooked rice was served. It is a particularly fine example – the carving is similar though more intricate than, for example, a related example in the Tropenmuseum collection in Amsterdam and illustrated in Meulenbeld et al, 1988, p. 135), and another, later example in the Museum & Art Gallery of the Northern Territory, Australia, illustrated in Bennett (2005, p. 66).
It comprises a finely woven rattan basket on an intricately carved wooden stand which comprises four legs. The basket is decorated in black and red polychrome, with each side having a heart or betel leaf emblem. A metal loop and floral-form plate is affixed to the base. Possibly this was to allow the item to be suspended upside down when not in use.
The legs are profusely carved with dense, pierced, foliate scrolls. These retain most of their original gilding.
The colour scheme and the carving suggest Chinese influence but also can be linked to the carved wooden work produced in Tonkin, Vietnam for the Dutch East Indies Company (VOC) and also perhaps relates to work undertaken in Southeast Asia that accorded with 17th and 18th century Indo-Portuguese tastes.
The item has fantastic patina and clear age. A 19th century dating is indisputable. An 18th century dating is a possibility. The item is robust and stable. There is minor loss to the basket work and no loss to the external wood carving. Overall, this is a very fine and rare example, of which few have survived.
References
Bennett, J., et al., Crescent Moon: Islamic Art & Civilisation in Southeast Asia, Art Gallery of South Australia, 2005.
Meulenbeld, B.C., et al, Budaya Indonesia: Arts and Crafts in Indonesia, Tropenmuseum, 1988.