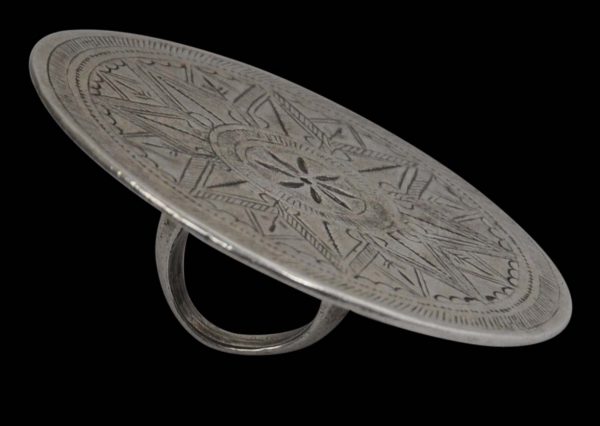 8815
Enquiry about object: 8815
Egyptian Engraved Silver Bride's Ring (Mahabis)
Berber People, Amun Siwa Region, Egypt early 20th century
diameter of bezel: 7cm, weight: 58.42g
This extraordinary ring with its over-sized bezel is of cast, hammered and engraved silver. It would have been worn on the middle finger by a bride of the Berber community in the Amun Siwa region in Egypt's isolated north east. Brides in this community traditionally wore a series of rings of which this example was the largest.
The face or bezel of the ring is engraved with an eight-pointed star. Eight was regarded as the number associated with cosmic balance.
The Siwa Oasis incorporates one of Egypt's most isolated settlements, with about 33,000 people today.  Mostly Berbers, they have developed a unique culture and a distinct Berber sub-dialect.
A similar example is illustrated in van Cutsem (2000, p. 29) and Nadler (2005, p. 39).
The ring has ample signs of use and wear. It has a fine patina, and the contours of the hoop of the ring are worn smooth with age and wear.
References
van Cutsem, A., A World of Rings: Africa, Asia, America, Skira, 2000.
Fahmy, A., Enchanted Jewelry of Egypt: The Traditional Art and Craft, The American University in Cairo Press, 2007.
Nadler, D. & S., Silver: From Fetish to Fashion, PDN Publishing, 2005.