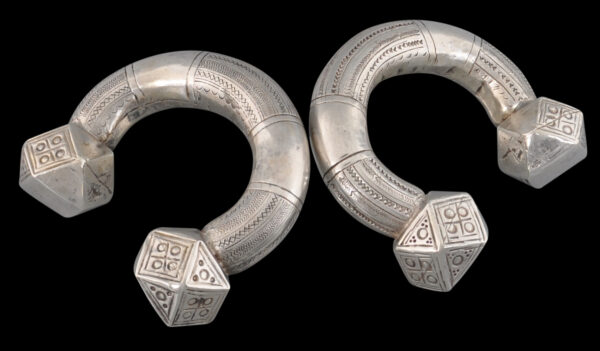 6574
Enquiry about object: 6574
Large Pair of Hollow Silver Anklets
Nubian People, Hala'ib Border Area, Egypt/Sudan early 20th century
exterior diameter: 14.2cm, interior diameter: 8.3cm, weight: 459g
Provenance
private European collection
This large, matched pair of hollow woman's silver anklets is from the Hala'ib border area of Sudan and Egypt (the area currently is disputed between the two countries). They are of tubular form with each arm terminating with a large 14-sided tetradecagon finial.
The finials and the bodies of the anklets are engraved with geometric  motifs.
Such large silver anklets were worn by Nubian women. Similar examples were worn by rural fellahin women south of Cairo.
A similar pair is illustrated in Hoek (2004, p. 37). Related examples are illustrated in Fahmy (2007).
The pair here are in fine condition and are without dents.
References
Fahmy, A., Enchanted Jewelry of Egypt: The Traditional Art and Craft, The American University in Cairo Press, 2007.
Hoek, C., et al, Ethnic Jewellery: From Africa, Asia and Pacific Islands, Pepin Press, 2004.
Nadler, D. & S., Silver: From Fetish to Fashion, PDN Publishing, 2005.