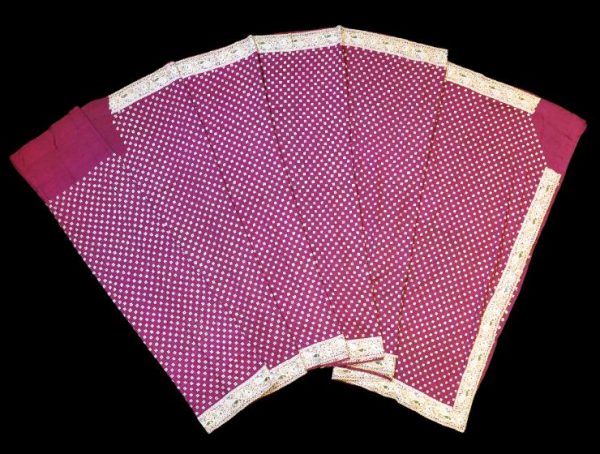 4056
Enquiry about object: 4056
Embroidered Akho Gara Sari
Parsee (Parsi) Surat region, India late 19th century
length: 530cm, width: 120cm
This fine akho gara sari (akho means 'full' as in 'fully embroidered') was made in Surat for the Parsee (Parsi) community. It comprises a dark purple silk gauze embroidered with Chinese-style embroidery with green, cream and yellow silk thread.
The borders are embroidered with a dense, rich design of peacocks amid flowers and foliage. The central panel is decorated with hundreds of small embroidered flower motifs.
Interestingly, those parts of the gara that would not be seen because they would be tucked in when draping the sari was being draped to be worn, have been left un-embroidered. Not only does this reduce the cost of such a sari (the embroidery work was very time consuming and thus expensive – apparently, garas were sold by their weight!) but it helped to reduce the weight and thickness of the sari making it easier to wear (Shah & Vatsal, 2010, p. 29).
The Parsees arrived as religious refugees to Gujarat in India in the eighth century from what is now Iran. They agreed on arrival to adopt many of local ways and so the women took to wearing saris in the manner of the local Gujarati women. Over time, Parsee saris –gara – developed their own style. Typically, a Parsee gara is five to five-and-a-half metres long and 110-120cm wide.
Originally, they were imported from China, but later, the saris were made locally in Gujarat but retaining some Chinese influence in the embroidery. They were costly when made and so were treated as heirloom pieces, passed from mother to daughter.
The Parsees, who follow the ancient religion of Zoroastrianism, first came to India from Persia in the 8th or tenth century, fleeing religious persecution. Today, probably there are about 125,000 Parsees or Zoroastrians worldwide. About 70,000 live in Mumbai/Bombay, a city of 14 million people. Another 1,700 live in Karachi in Pakistan. The Parsees of India and Pakistan are a distinct but exceptionally successful commercial minority. By the nineteenth century, Bombay's Parsee families dominated the city's commercial sector, particularly in spinning and dyeing and banking. Wealth from these activities was put into property so that by 1855, it was estimated that Parsee families owned about half of the island of Bombay. Today, India's most prominent Parsee family is the Tata Family, founders and owners of India's most prominent conglomerate the Tata Group. Despite their wealth, India's Parsee community is hugely respected and admired in India because of the community's humility and charitable works which extend way beyond serving members of their own community.
Well-off though they are as a community, the Parsees are dying out. It has been estimated that a thousand Parsees die each year in Mumbai, but only 300- 400 are born. Today, one in five Mumbai Parsis is aged 65 or more. In 1901 the figure was one in fifty. Low birth rates are the main factor. Probably no Parsees remain in Burma today.
The gara here is in very fine condition especially given its age. There are no obvious holes and no repairs.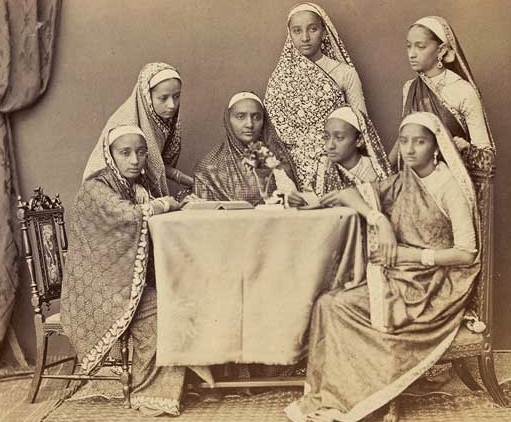 References
Shah, S., & T. Vatsal, Peonies & Pagodas: Embroidered Parsi Textiles – The Tapi Collection, Garden Silk Mills, 2010.
Stewart, S. (ed.), The Everlasting Flame: Zoroastrianism in History and Imagination, SOAS, 2013.