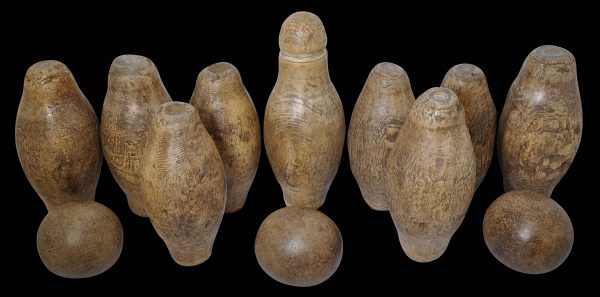 3466
Enquiry about object: 3466
English Tavern or Publican House Willow Nine-Pin Skittles Set
West Country, England 19th century
heights (approx.) 30cm each, and 40cm for the king pin
Provenance
UK private collection
This wonderful, highly sculptural set of nine pins and three bowling balls is full of character and is of a type used in western England in publican houses ('pubs') as entertainment for drinkers. Traditional pubs offered games for drinkers. Darts was the most common, but some country pubs with the space offered their own rudimentary bowling alleys in which skittles could be played.
Skittles is the game from which ten-pin bowling, nine-pin bowling, duckpin bowling and other variants are descended.
This set comprises nine pins (one taller king pin and eight ordinary pins) made of light willow wood, and three balls made of some very heavy, dense wood. The balls do not have holes in them for fingers, as is traditional with nine-pin bowling. The balls are roughly spherical but somewhat irregular. Traditionally each player played a 'hand' of three balls.
The set is sculptural and very decorative. They will look splendid in a contemporary setting and can be displayed simply as artworks. They are well used, and the pins (not the balls) have old woodworm holes. In short, they have splendid patina and shape. The set is also complete.