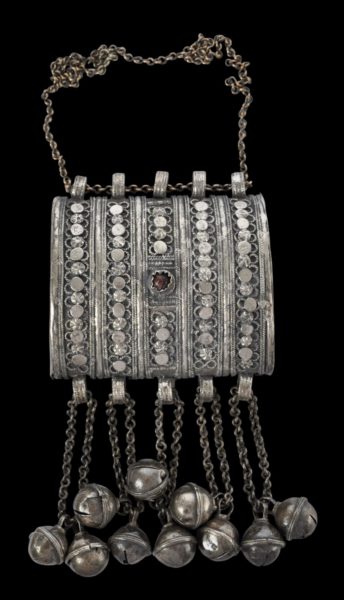 6206
Enquiry about object: 6206
Ethiopian Silver Amulet Necklace
Harar, Eastern Ethiopia early 20th century
width of box: 10cm, length of box incl. tassels: 18cm, overall weight: 298g
This amulet box is typical of those produced in Harar, an ancient, walled city in eastern Ethiopia that for centuries, has been a major commercial centre, linked by  trade routes with the rest of Ethiopia, the Horn of Africa, the Arabian Peninsula. Traditionally, the city had been an emirate rule by the Emir of Harar but later it was conquered and incorporated into the Ethiopian empire.
The box is of flattened-oval form. The front is decorated with bands of applied silver wire and applique work. The centre of the box is set with an unusual red stone cabochon that is marked with splashes of white.
The reverse is decorated with silver ribbing and applied twisted silver wire work.
The top of the box has five lugs or eyelets for suspension, and the original silver chain is threaded through these.
The bottom has another five lugs and chains, each with a pair of silver bells (some minor dents) is attached to these.
The box is closed; the original amulets – probably Koranic verses – are most probably still inside.
A related example is illustrated in Seiwert (2009, p. 116).
References
Seiwert, W.D., Jewellery from the Orient: Treasures from the Bir Collection, Arnoldsche Art Publishers, 2009.