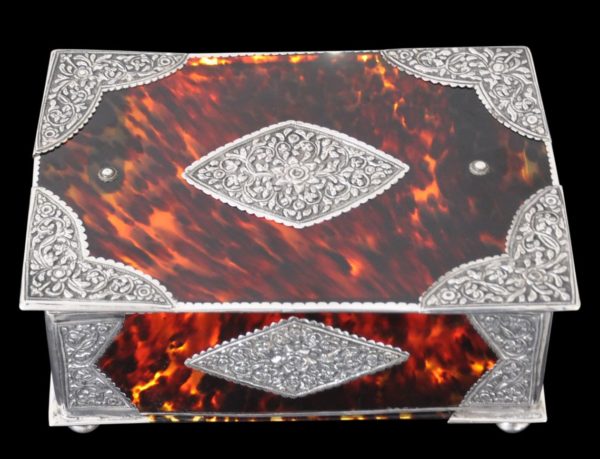 6528
Enquiry about object: 6528
Exceptional Dutch Colonial Tortoiseshell Betel Box with Fine Silver Mounts
Dutch Colonial East Indies, either Malay, Sumatra or Batavia (Indonesia today) 18th century
height: 8.1cm, length: 19cm, depth: 13.3cm
This superb and elegant box would have been used to store betel in the Dutch East Indies. It is of toffee-coloured tortoiseshell with finely chased, high-grade silver mounts. It stands on four solid-cast silver ball feet and has a 'C'-form solid silver handle attached to each side. The lid is supported when open by the original silver chain inside.
The silver mounts have been carefully riveted using silver pins to the tortoiseshell and gently folded over the edges of the shell. The purity of the silver and subsequent softness has allowed for such folding.
When lit from behind or beneath the translucent quality and pleasing mottling of the tortoiseshell becomes very apparent.
The local habit of chewing betel was adopted by the local Dutch and exquisite boxes to hold the nut, the betel leaf and the other accompaniments were commissioned by the Dutch. The Dutch realised early on how important betel was to the indigenous people and how it was an essential part of hospitality including with the indigenous rulers. They quickly incorporated betel use with their dealings with local elites.
The fashion for luxurious betel accoutrements and other finery saw the governor-general in Batavia Jacob Mossel issue a decree in 1754 stating that only the wives and widows of the governor-general, the director-general, members of the Council of the Indies and president of the Justice Council were permitted to use gold or silver betel boxes adorned with precious stones, (Zandvlieyt, 2002, p. 206).
The shapes of the silver mounts appear based on stylised cloud motifs used in Chinese silverwork.
The box is in excellent condition. There are no losses, chips or cracks to the tortoiseshell, and all the silver mounts are original and present.  There is only some inevitable but slight, age-related, warping of the tortoiseshell.
References
Eliens, T.M., Silver from Batavia/Zilver uit Batavia, Gemeentemuseum Den Haag/W Books, 2012.
van de Geijn-Verhoeven, M., et al, Domestic Interiors at the Cape and in Batavia 1602-1795, Waanders Uitgevers, 2002.
Haags Gemeentemuseum, V.O.C. – Zilver: Zilver uit de periode van de Verenigde Oostinische Compagnie 17de en 18de eeuw, 1983.
Tchakaloff, T.N. et al, La Route des Indes – Les Indes et L'Europe: Echanges Artistiques et Heritage Commun 1650-1850, Somagy Editions d'Art, 1998.
Krohn D.L. & P.N. Miller (eds.), Dutch New York Between East and West: The World of Margrieta van Varick, Bard Graduate Center/The New York Historical Society/Yale University Press, 2009.
Veenendaal, J., Furniture from Indonesia, Sri Lanka and India During the Dutch Period, Foundation Volkenkundig Museum Nusantara, 1985.
Veenendaal, J., Asian Art and the Dutch Taste, Waanders Uitgevers Zwolle, 2014.
Voskuil-Groenewegen, S.M. et al, Zilver uit de tijd van de Verenigde Oostindische Compagnie, Waanders Uitgevers, 1998.