– scroll down to see further images –
This unusually large chest is decorated on the hinged lid, sides and front with khatamkari inlay work. The decoration is particularly notable because it features repeated human figures. Few if any similar example have been published. The pair of this chest is in Cairo's Gayer Anderson Museum (see the images below).
The chest is of rectangular form and the surface is completely covered in bone and wood overlay mosaic (khatamkari) with Islamic-inspired geometric motifs, but also dozens of seated make figures wearing tall turbans that date back to the 16th century. There is a double eagle bone veneer key plate, a key that turns, and iron handles on either side. The back is plain and without inlay.
The chest sits on a later (but old) stand with four legs.
Most khatamkari work is attributed to the 19th century but this chest is noticeable earlier on account of its size, patina and figurative motifs, which suggest an 18th century dating, probably to the Zand Dynasty period.
The Gayer-Anderson Museum is named after Major Robert Gayer-Anderson, who resided in the house that is now the museum between 1935 and 1942 with special permission from the Egyptian Government. The museum has one of the best-preserved examples of 17th-century domestic architecture left in Cairo, and includes a large collection of Islamic furniture, carpets and curios. Other items from Gayer-Anderson's collection today are in the Fitzwilliam Museum, Cambridge, UK.
Khatamkari work is the process whereby fine wood and bone 'baguettes' are created by gluing together fine rods of the various materials and then finely cutting the baguette across-wise into thin veneers which now are patterned. The veneer slides are then inlaid into a wooden surface, one next to another and so on, until the entire surface is covered with what becomes a broader pattern. The technique most probably originated in Shiraz and Isfahan in Persia and later was copied in northern India and elsewhere in the Middle East.
The chest here has some losses at the extremities and wear commensurate with its age, and has a protective layer of varnish over it.
The twin of the example here as it stands in Cairo's Gayer-Anderson Museum today: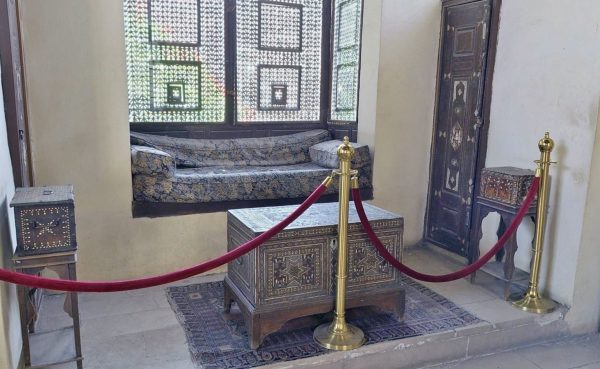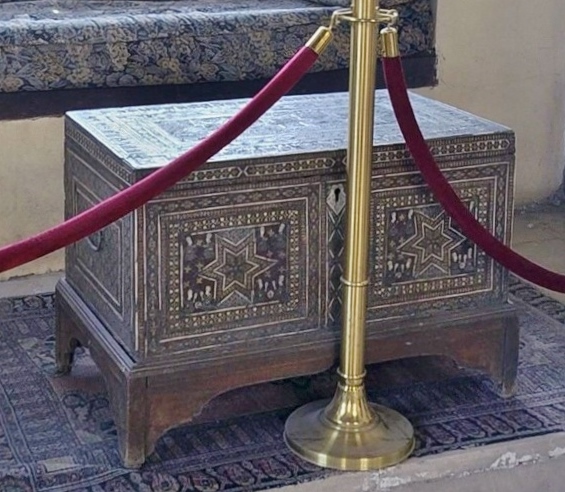 References
Carey, M., Persian Art: Collecting the Arts of Iran for the V&A, V&A Publishing, 2017.