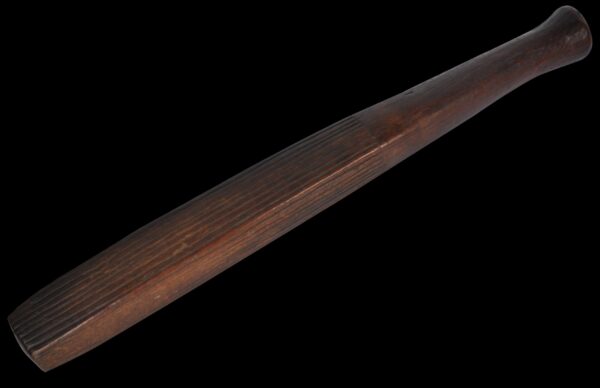 7261
Enquiry about object: 7261
Fijian Bark Cloth Beater (Ike ni Masi), ex Tost & Rohu of Sydney
Fiji 19th century
legnth: 41cm, width: 4cm, weight: 516g
Provenance
private collection, UK; Acquired from Tost & Rohu, Sydney - 1930s or earlier
This slender beater with flattened sides comprises a single piece of dense, heavy hardwood – probably ironwood – with a handle that has a slightly bulbous terminal at one end, and is rounded at the other. Two of the four sides are carved with grooves.
It was used to beat stripped, soaked bark (mostly from the paper mulberry) for the production of bark cloth (tapa or 'uha or masi). The cloth was then used in the manufacture of capes and other types of clothing. The repeated beating of the wooden fibres of the bark would soften them in the aid of producing cloth-like material.
Beaters have some similarity to Fijian clubs which is to be expected: the carvers of clubs are likely to have also carved beaters.
The beater here has a dark, lustrous chocolate patina. It is accompanied by an old label explaining the provenance – it has been in the collection of a Mr A. Eccles of Suffolk, England, and according to the label, he acquired it in Sydney from the curios firm Tost & Rohu.
Jane Tost (c. 1817-1889) and Ada Rohu came from a family of English taxidermists. They operated in Sydney, Australia, a curio and taxidermy shop and museum from 1878 until the 1930s where they sold ethnographic items from Australia and across the Pacific.  Today, the Tost and Rohu Collection is held in the Sydney-based Australian Museum, and comprises around 130 ethnographic objects acquired by purchase and exchange between 1886 and 1925 from Tost & Rohu.
The beater is in excellent condition and has a deep patina. It is accompanied by the collection label shown below.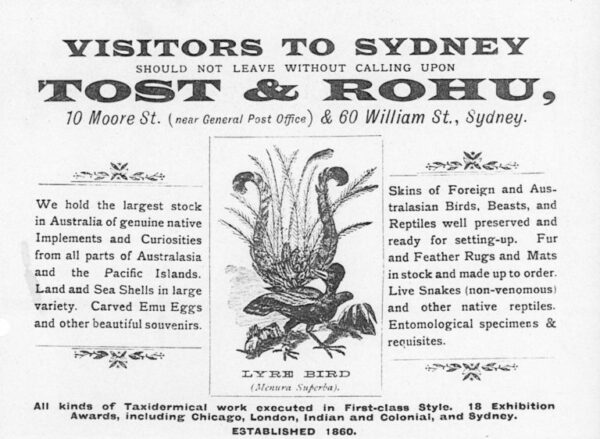 An advertisement for Tost & rohu published in The Australian Star (a Sydney newspaper), 20 February 1908.
See more images below.
References
Hooper,. S., Fiji: Art & Life in the Pacific, Sainsbury Research Unit for the Arts of Africa, Oceania & the Americas, 2016.
Kaeppler, A. L., Polynesia: The Mark and Carolyn Blackburn Collection of Polynesian Art, University of Hawaii Press, 2010.