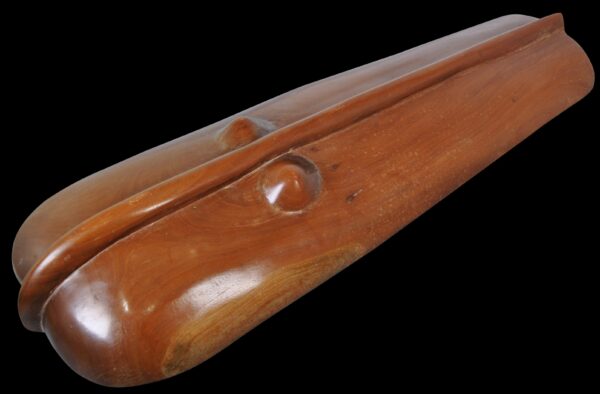 7246
Enquiry about object: 7246
Fijian Carved Wooden Bowl, possibly a Priest's Dish
Fiji 19th century & possibly earlier
length: 53.2cm, width: 19cm, depth: approximately 8cm, weight: 1,105g
Provenance
UK art market; private UK collection
– scroll down to see further images –
This marvellous carved wooden dish has a splendid form and patina. It is of shallow form and widens at one end. The underside has a boat or canoe-like keel or mid-rib, and also two pointy feet which help to steady the bowl on a flat surface when upright.
It is carved from a tropical hardwood, probably from light-grained vesi wood (Intsia bijuga), which is native to Fiji and which had enormous ritual significance.
The bowl came from an Oceanic collection of items, and most probably is from Fiji. Possibly, it was used as a priest's dish, or might have served simply as a food bowl.
The range of carved wooden dishes used by priests was broad.  According to Herle & Carreau (2013, p. 49), 'Priests, chiefs and senior men would offer prayers and yaqona to the gods at dawn. A proliferation of varied and elegant priest's bowls with extremely shallow surfaces were used for the consumption of this mildly narcotic liquid, which was sucked through a straw by the kneeling devotee.'
The bowls were placed on the floor or ground and were not touched on account of their sacred nature. The devotee was required to kneel low enough to be able to suck up the liquid from the shallow bowl.
Other bowls were also used for sanctified oil.
When not in use, priest's bowls were hung on the interior walls of the spirit houses together with clubs and spears. The fact that such bowls were hung, most probably with the bowl's interior facing the wall explains why the underside of the bowl has been finished to a high level – because this is the side normally on show when the bowls were not being used.
The bowl here is in excellent condition and has a superb finish and patina.
(More images are below. Also, see more Oceanic art.)
References
Herle, A. & L. Carreau, Chiefs & Governors: Art and Power in Fiji, Museum of Archaeology and Anthropology, University of Cambridge, 2013.
Kaeppler, A. L., Polynesia: The Mark and Carolyn Blackburn Collection of Polynesian Art, University of Hawaii Press, 2010.