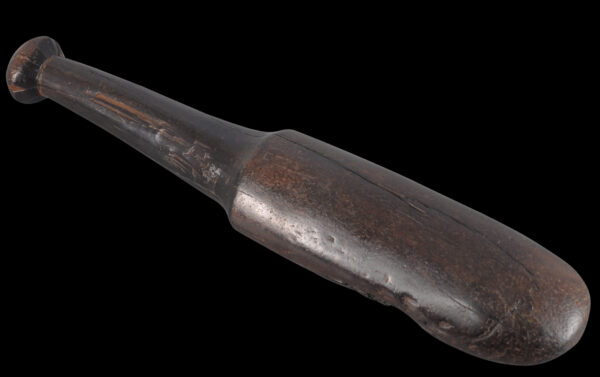 7020
Enquiry about object: 7020
Fijian Tapa Bark Cloth Beater (Ike ni Masi)
Fiji, probably Viti Levu Highlands region late 18th century
length: 36.4cm, weight: 771g
This relatively slender, flattened, cylindrical beater is composed of a single piece of dense, heavy hardwood, with a handle at one end, and an elongated, rounded head at the other. The beater is smooth all over and without grooves or other carved decoration.
It was used to beat stripped, soaked bark (mostly from the paper mulberry) for the production of bark cloth (tapa or 'uha or masi). The cloth was then used in the manufacture of capes and other types of clothing. The repeated beating of the wooden fibres of the bark would soften them in the aid of producing cloth-like material.
The rounded, oval form is suggestive of provenance in the Viti Levu Highlands region.
Beaters have some similarity to Fijian clubs which is to be expected: the carvers of clubs are likely to have also carved beaters.
It has a dark, lustrous chocolate patina. There are old splits and chips consistent with a great deal of age and use. These have wear, age and patina themselves, making the beater particularly attractive. It is possible that this beater originally was tubular in form, but that use over many decades saw it gain its current shape.
References
Hooper,. S., Fiji: Art & Life in the Pacific, Sainsbury Research Unit for the Arts of Africa, Oceania & the Americas, 2016.
Kaeppler, A. L., Polynesia: The Mark and Carolyn Blackburn Collection of Polynesian Art, University of Hawaii Press, 2010.