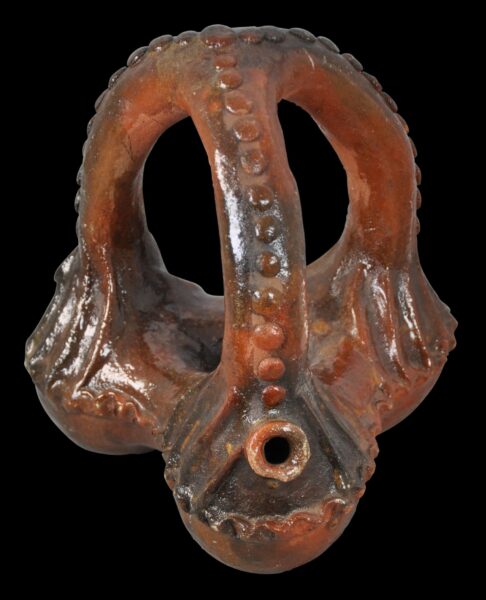 7312
Enquiry about object: 7312
Fijian Terracotta Water Vessel (Saqamoli)
Fiji 19th-20th century
height: 16.5cm, width: 15cm, weight: 875g
Provenance
Antiques market, Scotland.
This terracotta drinking vessel known as a saqamoli comprises three connected, spherical chambers and three hollow arms that combine to make one handle. Such vessels were made for chiefs to use. There are two apertures or short spouts, one of which was to serve as the pouring spout (i gaga). The form of this example was said to resemble a cluster of citrus fruits (moli).
Made of clay (qele), the handle is decorated with decorative spots (<i>somuna</i>), whereas the three spherical chambers of the vessel are decorated with ridges.
The vessel is coated with shiny makadre varnish made from the resin of the Dakua or Fijian Kauri heartwood tree.
See a related vessel in the Auckland Museum which was acquired before 1870, and another.
Such vessels would be used to pour water into the mouth for drinking, but without the lips actually making contact with the vessel.
The vessel here is in fine condition. There is minor chipping around one of the short spouts.
References
Hooper,. S., Fiji: Art & Life in the Pacific, Sainsbury Research Unit for the Arts of Africa, Oceania & the Americas, 2016.
Kaeppler, A. L., Polynesia: The Mark and Carolyn Blackburn Collection of Polynesian Art, University of Hawaii Press, 2010.