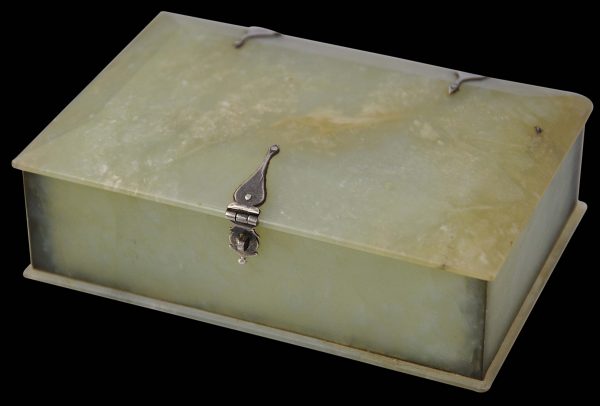 1727
Enquiry about object: 1727
Fine Bowenite Casket with Silver Mounts
India circa 1820
length: 11cm, width: 7.2cm, height: 3.2 cm, weight: 253g
– scroll down to see further images –
This elegant and well proportioned box is composed entirely of bowenite panels and silver. (Bowenite, with its jade-like colour, is a type of serpentinite and is classed as a semi-precious stone much used by the Russian court jewellers Faberge. )
The panel that comprises the hinged lid is bevelled on all sides.
The hinges and the miniature latch at the front are of silver, which has become smoothed with time giving it a pleasing, buttery patina. Overall, this casket is in very fine condition and is without significant losses, repairs or cracks.
See lot 327 of Christie's 'Art of the Islamic and Indian Worlds', 26 April 2012 for another bowenite casket albeit in very poor condition.