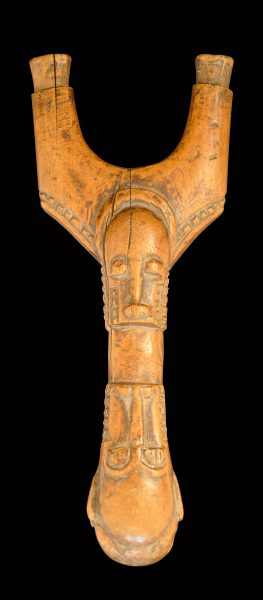 3115
Enquiry about object: 3115
Fine, Carved Wooden Baule Catapult
Baule People, Ivory Coast probably 19th century
height (not including stand): 16cm, width: 6.5cm
Provenance
acquired from the estate of Dr Peter Sharratt (d. 2014). Sharratt was a linguist and lecturer in the School of Literatures, Languages and Cultures at the University of Edinburgh who published on Renaissance French sculpture. In his private life, he was an avid collector of tribal art, building up his collection over fifty years. During that time, he bought from UK dealers, collectors and auction houses.
This fine sling shot has been carved from light wood, and with the Y-shaped frame having been carved as a buffalo head with protruding strong horns. The handle has been carved as a human face but with crocodile jaws. In this way, the decorative has been combined with the utilitarian.
Scarifications are incised on the human and the buffalo faces, which are calm and serene, suggesting harmony between the human and animal realms. When turned on its side, the sling shot reveals a less harmonious aspect: the human face reveals its crocodile jaws. The animal representations on carvings are not accidental. The buffalo is chosen as a motif to symbolise its association with regenerative powers, human agriculture and land fertility. On the other hand, the use of the crocodile motif suggests hunting and the danger of the nature.
This sling shot shows great sign of use: it has a lustrous honey-coloured patina and contours rounded from much handling.
African sling shots and catapults are not well documented compared with other African art forms. Baule sling shots are more commonly found with their designs carved upside down wit respect to how the sling shots are held when in use.
Examples of Baule sling shots were included in Bonham's (London) sale of the Timothy F. Garrard Collection in 2005.
Sling shots and catapults are amongst an array of objects of miniature art in West Africa. They were used in the hunting of smaller prey to supplement the diet. Sling shots were believed to hold talismanic powers and bring luck in hunting. Their lower portion is usually fitted with a rubber obtained from inner tire tubes. However, these attachments often fall off over time.
The Baule is one of the largest tribes in the Ivory Coast (the Republic of Côte d'Ivoire). The Baule belong to the Akan people of Ghana. They left Ghana when the Ashanti rose to power. Around a million Baule people occupy eastern Côte d'Ivoire between the Komoé and Bandama rivers. Traditionally they are good farmers. Their traditional beliefs system allows for the immortality of the soul, the worship of spirits, their ancestors and a hierarchy of gods. However, Alouroua the creator god, and their ancestors are never physically represented in art forms.
This actual item is illustrated in Tribal Kunst, Winter 2023, p. 6.
Note: The catapult comes with a custom-made stand.
References
Ginzberg, M., African Forms, Skira editore, 2000.
Hamilton, J., Ivory Coast in Pictures, Twenty-First Century Books, 2004.
Jackson, G. M., Women Leaders of Africa, Asia, Middle East, and Pacific, Xlibris. 2009.
King, A., From Africa: New Francophone Stories, University of Nebraska, 2004.
Robbins, W. M. and Nooter, N. I., African Art in American Collections, Smithsonian Institution, 1989.
Roberts, A. F., Animals in African Art: From the Familiar to the Marvelous, Prestel & The Museum for African Art, 1995.
Tribal Kunst, Winter 2023.