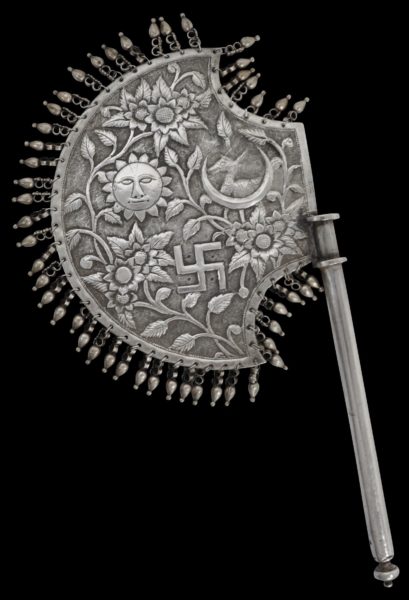 6352
Enquiry about object: 6352
Fine, Chased Indian Silver Ritual Temple Hand Fan
India, probably Rajasthan late 19th century
length: 35cm, width: 16cm, weight: 386g
This solid silver fan would have been used ritually in a temple and in temple processions, usually to fan bronze images of Krishna and other idols, in keeping with the practice of treating such images as if they are living.
This example has a fixed silver handle. The blade itself is chased on one side with a sun motif, a crescent moon motif with a deer, and a reverse swastika amid flowers and leaves and against a tooled background.
The word swastika comes from a Sanskrit word for 'auspicious'. A swastika with the arms radiating out in a clockwise fashion symbolises Surya, the sun deity.
The edge of the blade is pierced with 47 silver pendant spangles each cast with two small flowers and a tear-shaped drop.
The handle is plain but the bottom end terminates with a finial.
The fan is stamped with 'T100'.
Silver was considered a 'pure' metal and thus appropriate for use in a ritual, particularly among wealthier temples.
A related brass fan is illustrated in Aryan & Ayran (2016, p. 181).
The example here is in excellent condition.
References
Aryan, S. & B.N. Ayran, Unknown Masterpieces of Indian Folk and Tribal Art, KC Aryan's Home of Folk Art, 2nd & enlarged ed., 2016.
Hutt, J. et al, Fans from the East, Debrett/V&A, 1978.