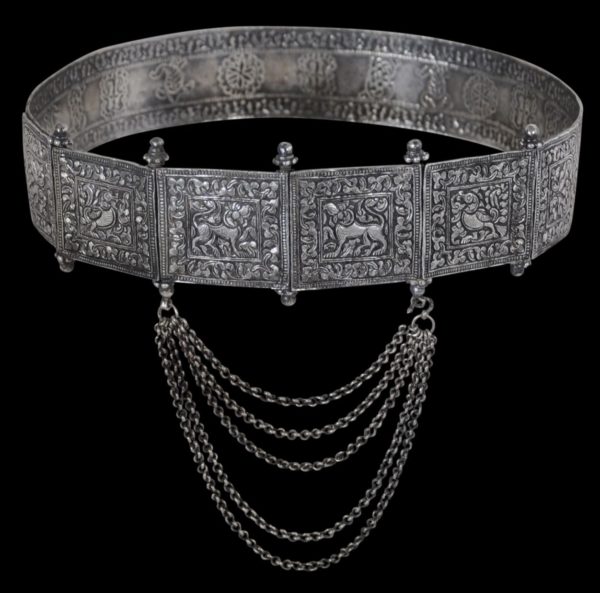 6017
Enquiry about object: 6017
Fine, Indian Chased Silver Waist Belt (Oddiyanam)
Andhra Pradesh or Tamil Nadu, India 19th century
diameter when closed: 18.3cm, circumference: 61cm, weight: 324g
– scroll down to see further images –
This unusually fine, high-grade silver belt comprises four smaller hinged panels at the front, two decorative side panels, and one longer silver strip at the back. The front sections are finely chased with South Indian sacred swan (hamsa) motifs and mythical feline creatures (yalis).
The large back panels is chased in low relief with floral and leaf motifs within leafy scrolling borders.
The belt opens by means of pull-out silver pegs.
Five silver chains of increasing length hang from the front panels in a decorative and pleasing manner.
Waist belts such as these were part of a bride's attire, and also were used by dancers. They were worn over the sari.
The belt is in excellent condition.
A belt of related form but in gold is illustrated in Rai & Mani (2017, p. 222).
References
Borel, F., The Splendour of Ethnic Jewelry: From the Colette and Jean-Pierre Ghysels Collection, Thames & Hudson, 1994.
Rai, R., & A. Mani, Singapore Indian Heritage, Indian Heritage Centre, 2017.