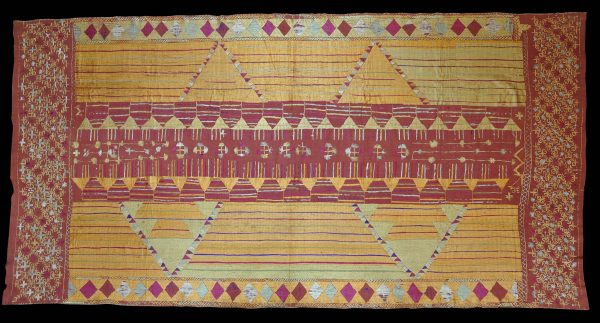 3552
Enquiry about object: 3552
Fine Indian Embroidered Phulkari Textile
Western Punjab, India circa 1900
length: 237cm, width: 116cm
This textile is from the Sikh regions of the Punjab. It comprises three terracotta-red homespun cotton panels that have been sewn together by hand. The pieces have been embroidered with striking, bright, straw-yellow silk threads and silk threads of other colours in various geometric and floral patterns.
Phulkaris were worn by women all over Punjab during marriage festivals and other festive occasions. They tended to be embroidered by women for their own of other family members' use rather than were bought in the markets. Phulkaris often were presented to brides at the time of marriage.
The textile is in very good condition and is without repairs, tears or insect damage. There is only some minor looseness to the threading where the cloth has been folded.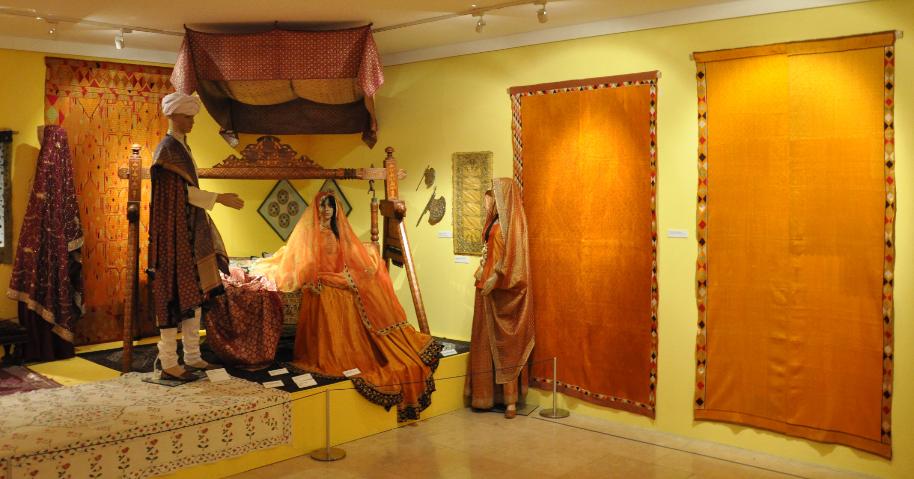 Related phulkaris shown in March 2017 at the Brunei Gallery, SOAS, London as part of the 'Embroidered Tales and Woven Dreams' exhibition.
References
Aryan, S. & B.N. Ayran, Unknown Masterpieces of Indian Folk and Tribal Art, KC Aryan's Home of Folk Art, 2nd & enlarged ed., 2016.
Mason, D. (ed.), Phulkari: The Embroidered Textiles of Punjab from the Jill and Sheldon Bonovitz Collection, Philadelphia Museum of Art/Yale University Press, 2017.