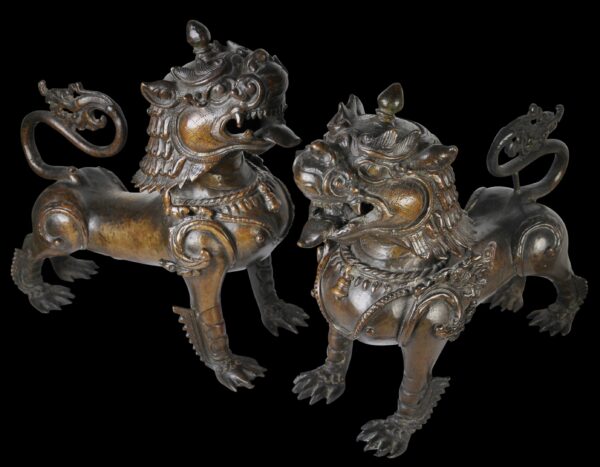 8673
Enquiry about object: 8673
Fine Nepalese Pair of Bronze Snow Lions
Kathmandu Valley, Nepal 18th century
height: approximately 22cm, length: approximately 23cm, width: approximately 10cm, combined weight: 5,404g
Provenance
private collection, UK.
– scroll down to see further images –
This pair of Nepalese cast bronze snow lions is among the best we have seen. The quality of the casting is unusually fine and the patina is especially good and deep. They are sinewy and energetically composed.
Each stands on four feet and is decorated with jewels and decorative flourishes. Flames of wisdom radiate from the shoulders, legs, heads and tails. Each has a copious, elaborate and well-rendered mane, gaping mouths and protruding tongues.
This sort of elaborate decoration delineates Nepalese lions from Indian and other versions. The motif of the snow lion itself came to Nepal from Tibet in the sixteenth century, where it was one of the auspicious animals portrayed in art. It had its corollary in Indian art with the Indian lion with both motifs intending to convey power and divinity. In this regard, the snow lion often is used as a support in the rendering of thrones, including those on which images of the Buddha sits.
The pair here is extremely well modelled. It is also uncommon now to find a true pair. (There are minor differences – one has a vertical bar support for its tail; the other does not, for example.) They are highly decorative and of the finest casting.
References
Bromberg, A., et al., The Arts of India, Southeast Asia, and the Himalayas: At the Dallas Museum of Art, Yale University Press, 2013.
Waldschmidt, E & R.L., Nepal: Art Treasures from the Himalayas, Elek Books, 1967.